THING TO DO
Hike Golden Canyon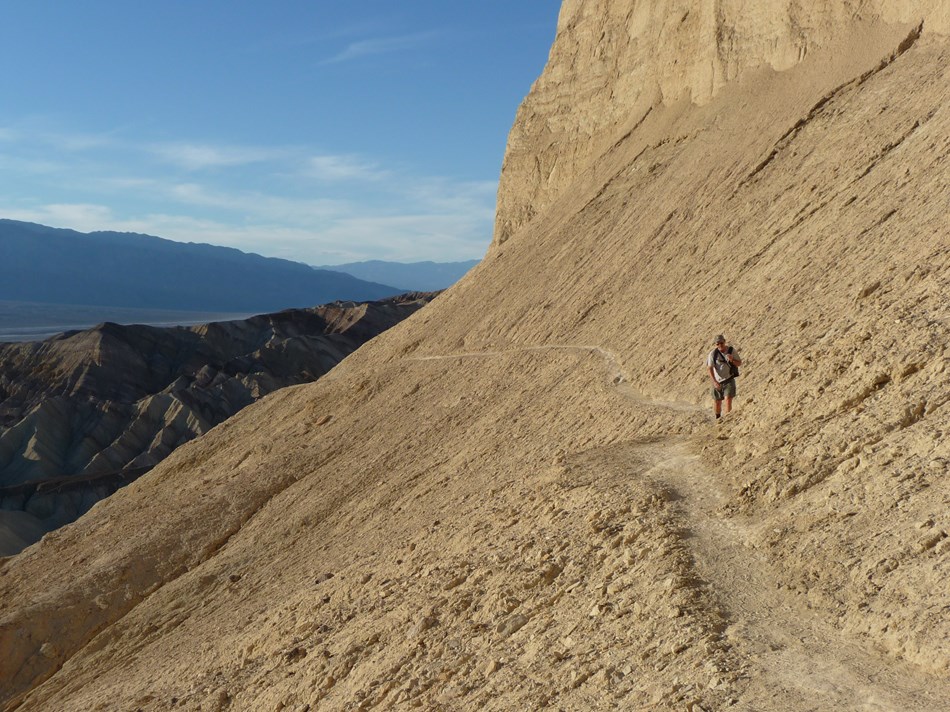 A labyrinth landscape of golden colored hills and winding narrow canyons create hiking options ranging from easy strolls to strenuous adventures. The most popular routes can be combined with one another for longer adventures. Regardless which adventure is right for you, take the map and route description with you.
SUMMER HIKING IS NOT RECOMMENDED in the lower elevations of the park.
We recommend only 15 minutes out of the car/A/C in the summer heat in the lower elevations.
Star Wars Fans?
Star Wars Episode IV: A New Hope had a few scenes filmed at this location. Explore the lower part of the canyon to recognize a couple shots and maybe see a Jawa!
Star Wars, a New Hope, was filmed in the national park a few decades ago, when that type of filming was permitted. We would not allow the vast majority of the filming that was done now because of the prohibition on commercial filming in wilderness. More permit information can be found on our
permits page.
Anything from a short, brief hike into Golden Canyon, or 4.5 miles of looping route are available from this location. 
You may take your pet along roads, to campgrounds, picnic areas, and other developed areas of the park, but they must be restrained or kept on a leash no longer than 6 feet at all times. Other than service animals, pets are not allowed inside most buildings or on trails (including to Zabriskie Point), but you also can not leave them in your car while you are away. Most pet owners find that both their pets and themselves are happier if the pets are left at home or in a kennel.
Included in entrance fee or acceptable pass. 
Season
Winter, Spring, Fall
Last updated: May 25, 2018