THING TO DO
Take a Tour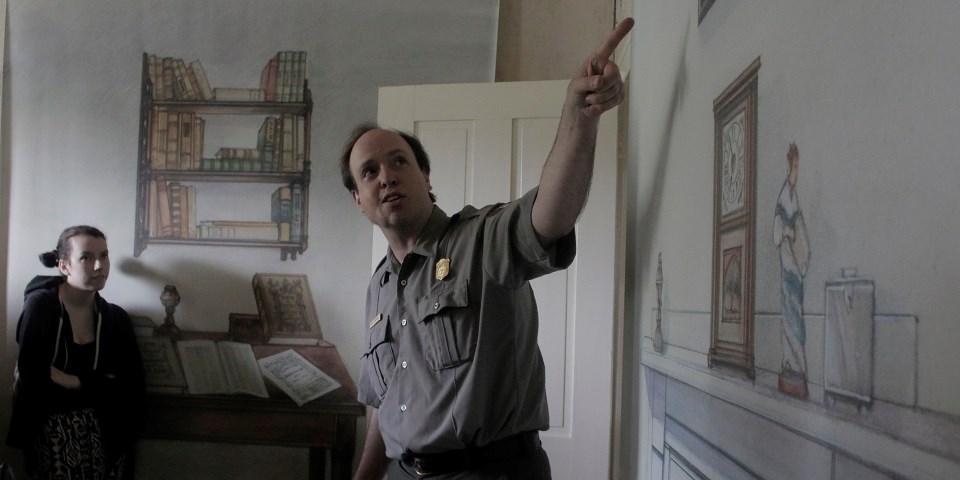 See the house in which Poe spent some of his most productive years.
Edgar Allan Poe resided in Philadelphia between the years of 1838 and 1844, a period which he called his happiest and most productive. During his six years in Philadelphia, Poe lived in five different houses. Only this one survives. The household included Poe, his young wife Virginia, her mother Maria Clemm (or "Muddy"), and a cat named Catterina.
Today, the house does not have any furnished rooms. Instead, it has wall-mounted illustrations to show how the rooms may have been furnished when Poe lived in the house. Visitors may take a self-guided tour or request a guided tour. Read about the
house layout
to get a better sense of the number of rooms, and how the Poe family may have used them.
If you're feeling daring, descend into the basement, which bears a striking resemblance to the basement that Poe describes in "The Black Cat."
Pets are not allowed, unless designated assistive animals.
Entrance fees may apply, see Fees & Passes information.
Location
Edgar Allan Poe National Historic Site
The Edgar Allan Poe National Historic Site sits in an urban area served by Interstates 95 and 676. On-street parking is usually available near the site. The site is also easily accessible by public transportation. See the
directions page
for more information.
 Please remember that the site is open Friday through Sunday from 9am - 12pm and 1pm - 5pm. The site is closed from 12pm - 1pm.
Accessibility Information
The historic home is not accessible to those who use wheelchairs, nor are there any accessible restrooms. However, the exhibit area is accessible through a ramp.  To access the ramp, please call ahead (215-597-8780).

The film is captioned for the hearing impaired, and audio description is available for the sight impaired. Audio description is available for the exhibits.
Last updated: June 29, 2018