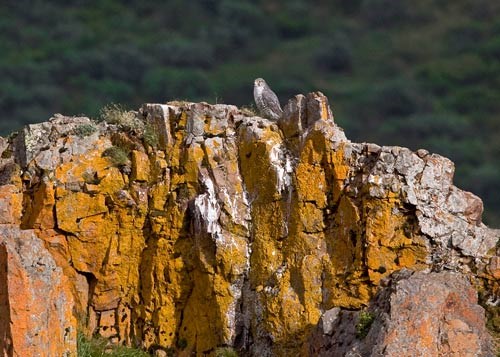 Denali is home to many bird species, particularly in summer.
As a wilderness park, however, many areas are fairly inaccessible. There is only one road in Denali, which both simplifies and complicates specific activities, like bird-watching.
This guide to bird watching in Denali refers to various geographic areas in the park, either by the name of a nearby landmark (e.g., Savage River), or by a rough mile number on the road (e.g., Mile 15). Refer to a
map of Denali
if you're unfamiliar with the park's layout.
Summer
Over 150 species of bird live in Denali during the summer, mostly migrants.
Most park visitors ride a bus of some kind during their trip. Although that is not a required part of birdwatching in Denali, it may be useful to you.

Areas Accessible On Foot or By Car
In summer, you can drive the first 15 miles of the park road. In addition, a number of trails exist around the park entrance area, as well as at Mile 15, Savage River.
Park entrance
The terrain near the Denali Visitor Center and entrance of the park is very forested, mainly with spruce trees. Several types of corvids (ravens, magpies, gray jays) and galliformes (ptarmigan, grouse) might be seen here. Walking the trails in this area may be your most likely way to see birds, particularly grouse. Various owls (great horned, great gray) might also be seen in the forest on occasion.
Savage River
The park generally rises in elevation from the entrance to Savage River. more details to come
Birdwatching By Bus
Buses travel the sole road in Denali from May 20 through the middle of September. There are several strategies for birdwatching; the best one for you will depend on your goals.
Strategy One: All Day by Bus
This strategy works on the principle that the longer you are in the park, the better your odds of seeing any wildlife, including birds. It also ensures you see all of the ecosystems found along the road, including the wetlands of the far western end.

Bus choice: A shuttle bus heading to Wonder Lake or Kantishna, or the narrated Kantishna Experience Tour.

Strategy Two: Disembark
Shuttle buses allow you to disembark anywhere on the road that you wish. That means you can spend more time in an area of interest to you, either hiking or resting near the road with binoculars.

Recommended areas:
Teklanika (Tek) Flats
Between Sanctuary River and Teklanika River is an open expanse of tussocks and shrubs. This area is not very fun for hiking, but the lack of trees helps you scan a large area for birds. Most species that live in tundra or the transition zone between forest and tundra might be found here, including a wide range of passerines and even, on rare occasions, birds like snowy owls.
Sable Pass
Hiking off of the road is prohibited here, but you may walk or pause on the roadside. The area is much higher in elevation than Tek Flats.
Polychrome Mountain
This area is also above tree-line, but the landscape is much steeper than Sable Pass. Hiking off of the road is allowed. It is not uncommon to see birds of prey flying above or below the level of the park road on Polychrome.
Wetlands west of Eielson Visitor Center
For several miles between Eielson Visitor Center and Wonder Lake, the park road passes through a landscape dotted with kettle ponds and marshes. Many water-dwelling birds can be found throughout this region.
Bus choice: A Toklat or Eielson shuttle bus, or a Wonder Lake Bus (if you wish to maximize your chances of seeing waterfowl).

Strategy Three: Go Backpacking
Though


Fall, Winter or Spring
Relatively few species call Denali a home year-round. Access into the park is also limited in winter, as well as part of spring and fall, so most birdwatching occurs around the first few miles of the Denali Park Road.