THING TO DO
Hike to Mesa Arch

Island in the Sky District
You may have seen it on your friends' social media accounts, or maybe you have photos of it as your computer background image. It's a popular photo for a reason. Mesa Arch is a spectacular stone arch perched at the edge of a cliff with vast views of canyons, rock spires, and the La Sal Mountains in the distance.
It's also a relatively easy trail to hike at just a half mile (0.8 km) long. Along the way, you'll see signs pointing out some of the common Canyonlands plants and their traditional uses.
During busy seasons, the parking lot at Mesa Arch can fill. If you can't find a parking spot, come back at another time. We recommend visiting early or late in the day.
Location
Mesa Arch Trailhead
The Mesa Arch trailhead is located in the Island in the Sky district, about 7 miles (11 km) south of Island in the Sky Visitor Center, or about 6 miles (10 km) north of Grand View Point.
Accessibility Information
The trail rough, uneven, and requires walking up and down a rocky hill and stone steps. It is not accessible to wheelchairs.
In winter, there may be snow or icy conditions; we recommend traction devices for hikers.
Service animals are allowed in national parks. What is a service animal?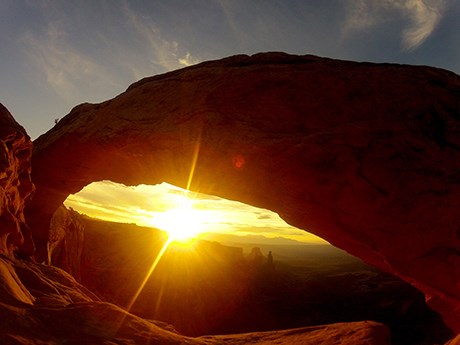 Photography
Sunrise is a popular time for photographers. The sun rises in the distance behind Mesa Arch and photographers catch the rays of the sun at the horizon or beneath the arch.
Because of this popular photo spot, Mesa Arch can be very crowded at dawn. Please be patient and give everyone a chance to get their photos.
The sun continues to illuminate the underside of the arch for several hours after sunrise, so if you don't catch the dawn, you can still get excellent shots after many other photographers have departed.
Throughout the day, the changing light and clouds over Mesa Arch makes it an excellent photography spot. Any time of day can provide a variety of light and textures on the famous arch. Consider other angles and perspectives to get a different view.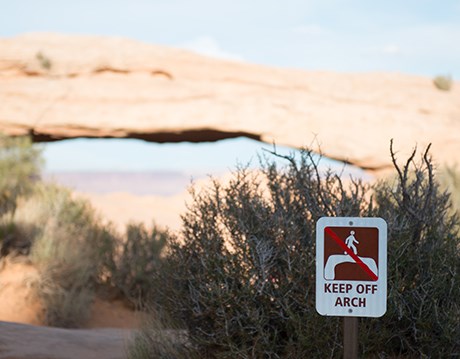 Protect your park. Protect yourself.
Protect fragile biological soil crust by hiking only on established trails, bare rock, or in sandy washes (where water flows when it rains).
To protect the arch, keep yourself safe, and allow everyone to enjoy and photograph this spectacular feature, do not walk or climb on Mesa Arch.
Mesa Arch is a great hike for kids; everyone should use caution as there are unfenced overlooks and steep drop-offs on this trail
Practice safe hiking. Avoid hiking in midday summer heat. Carry and drink water and eat salty snacks during your hike. Read more about staying safe.
Last updated: January 27, 2021