THING TO DO
Biking in Rock Creek Park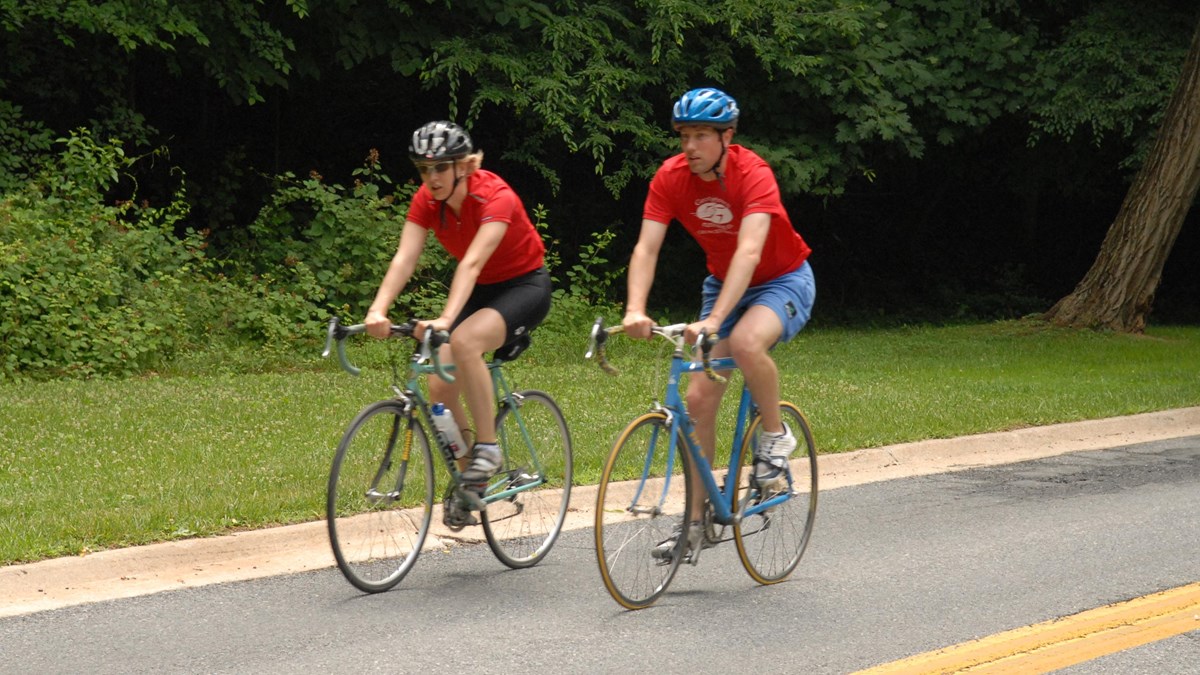 All roads and paved trails in Rock Creek Park are open to bicyclists. A popular paved path begins just north of Peirce Mill and follows the creek all the way south to the Lincoln Memorial and beyond! On weekends, much of Beach Drive between Broad Branch Road and the Maryland boundary is closed to vehicular traffic.
Bicycle Use Areas/Routes:
36 CFR 4.30 prohibits the use of bicycles except on park roads, in parking areas, and on routes designated for bicycle use. In addition:
Operating a bicycle abreast of another bicycle is prohibited except on sections of roads closed for recreational use.
All unpaved trails, and off-trail or off-road areas are closed to bicycle use.
Bicycles must be operated at speeds reasonable for existing conditions. Speed should not exceed 15-mph on paved multi-use recreation trails or 25-mph on paved roadways.
Bicyclists must adhere to protective equipment requirements and regulations set by the District of Columbia.
E-bikes are allowed in Rock Creek Park where traditional bicycles are allowed. E-bikes are prohibited where traditional bicycles are prohibited. Except where use of motor vehicles by the public is allowed, using the electric motor to move an e-bike without pedaling is prohibited.
A person operating an e-bike is subject to the following sections of 36 CFR part 4 that apply to the use of traditional bicycles: sections 4.12, 4.13, 4.20, 4.21, 4.22, 4.23, and 4.30(h)(2)-(5).
Except as specified in this Compendium, the use of an e-bike within Rock Creek Park is governed by District of Columbia law, which is adopted and made a part of this Compendium. Any violation of District of Columbia law adopted by this paragraph is prohibited.
Definition: The term "e-bike" means a two- or three-wheeled cycle with fully operable pedals and an electric motor of less than 750 watts (1 h.p).
Entrance fees may apply, see Fees & Passes information.
Bicycling is an option year round and is at the discretion of the cyclist. Fallen leaves can obstruct curbs, road stripes and other hazards. Water in the creek can rise unexpectedly and cover roadways. Use park roads and paths at your own risk.
Rock Creek Park is open Sunrise to Sunset. Due to un-lit roadways in park it is recommended that cyclists only use park roads during daylight hours.
Accessibility Information
Bicycles are permitted on paved trails and roadways within the park. Paved multi-use trails can be anywhere from 3-feet wide to 6-feet wide and can have varying grades depending on the terrain. These trails may have breaks in the asphalt or have edges that roll away into the vegetation. Paved trails through wooded areas could be obstructed by fallen trees or other organic matter. Park roadways are standard two lane roads with a double yellow stripe down the middle.  
Last updated: June 4, 2021