THING TO DO
Hike to Landscape Arch

Landscape Arch, one of the world's longest stone spans, stretches 306 feet (93.3 m), yet is only about 11 feet (3.4 m) thick at its center. You may wonder how such a narrow span of rock can stay in place. In fact, arches are constantly changing. In 1991 a 60-foot-long (18 m) slab of rock fell from the bottom of the arch. You can see remnants of this rock fall beneath the arch today.
Start your hike at the Devils Garden trailhead. The trail is hard-packed to Landscape Arch. The total distance to the arch and back is 1.9 miles (3.1 km). The trail is relatively flat with hard packed surfaces to walk on. There is no significant elevation gain, only moderate hills, up and down. The trail meanders through tall fins to a spectacular view of Landscape Arch. Along the way, you'll see side trails to Pine Tree and Tunnel arches.
The hike becomes difficult beyond Landscape Arch toward Double O Arch. Turn around at this point to avoid the challenging remainder of the hike.
Entrance fees may apply, see Fees & Passes information.
In summer, we recommend starting your hike early in the morning. Avoid starting this hike in the midday heat. Always carry and drink water when hiking.
In winter, snow or icy conditions may make this trail treacherous. Use caution. We recommend traction devices in winter.
Accessibility Information
The trail to Landscape Arch has a hard-packed surface. There are some short, steep climbs toward the end of the trail that would require assistance for a person using a wheelchair. The trail changes to a sandy surface after a view of Landscape Arch. 

There may be some muddy or unven surfaces following rain or snow. In winter, there may be snow or icy conditions; we recommend traction devices for hikers.

Pets are not allowed on this trail, but service animals are welcome.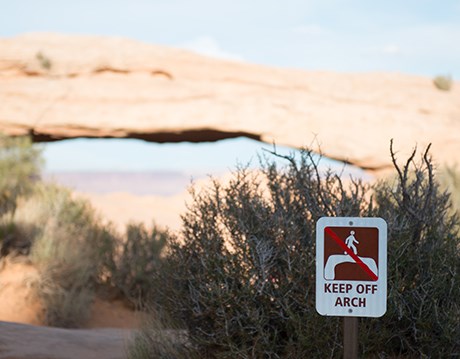 Protect your park. Protect yourself.
Protect fragile biological soil crust by hiking only on established trails, bare rock, or in sandy washes (where water flows when it rains).
To protect the park, keep yourself safe, and allow everyone to enjoy their views of these geological formations, do not walk or climb on any arches.
Practice safe hiking. Avoid hiking in midday summer heat. Carry and drink water and eat salty snacks during your hike. Read more about staying safe.
Last updated: December 1, 2020