THING TO DO
Visit Delicate Arch Viewpoint

View the world's most famous natural stone arch.
Delicate Arch is a must-see for most park visitors. If you don't have the time or ability to take the difficult 3-mile roundtrip hike to the arch, you can see it from a distance at Delicate Arch Viewpoints.
You can't hike to the arch from the viewpoints. The hike to the arch begins at Wolfe Ranch, about 1 mile down the road.
Entrance fees may apply, see Fees & Passes information.
Time of Day
Day, Dawn, Dusk
Accessibility Information
Lower Delicate Arch Viewpoint is accessible for people using wheelchairs. It has a hardened surface with a wide pathway leading to a view of Delicate Arch at the top of a distant rock wall.
 
Upper Delicate Arch Viewpoint is not accessible to wheelchairs. It climbs steeply on rocky trail surfaces to a view of the arch.
 
In winter, there may be snow or icy conditions; we recommend traction devices for hikers.
 
Service animals are allowed in national parks. For a definition of a service animal, please see the Americans with Disability Act (ADA). Pets are not allowed on this trail.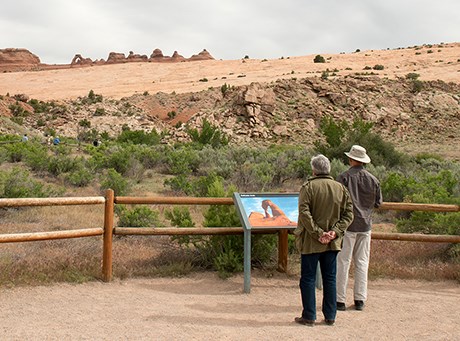 Lower Delicate Arch Viewpoint
A flat, 50-yard trail (45 m) leads to the lower viewpoint. The trail is accessible to people using wheelchairs.
You can read about the arch on a nearby exhibit.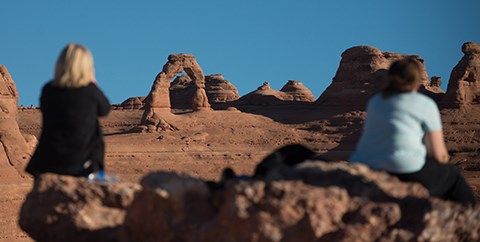 Upper Delicate Arch Viewpoint
A longer, moderately strenuous trail climbs steeply 0.5 mile (0.8 km) to the upper viewpoint, separated from Delicate Arch by a canyon.
Last updated: October 3, 2018