THING TO DO
Hike to Delicate Arch

People come from all over the world to visit Arches National Park, and visiting Delicate Arch is on the top of many visitors' to-do lists. 
The trail to see Delicate Arch up close and personal is 3 miles (4.8 km) roundtrip and climbs 480 feet (146 m). At the beginning of the trail, you'll pass the Wolfe Ranch cabin and a wall of Ute Indian petroglyphs.
The duration will vary depending on your fitness level and length of time spent at the arch.
Entrance fees may apply, see Fees & Passes information.
Take at least 2 quarts (2 L) of water per person.
Summer
Avoid hiking this trail in midday summer heat; start early in the morning.
Winter
You may encounter sections of snow or ice on this trail. We recommend over-the-shoe traction devices when hiking in winter.
Accessibility Information
The trail to Delicate Arch is not accessible to wheelchairs. It climbs over rough and steep terrain. The only section of trail that is accessible is the trail around Wolfe Ranch and the Ute rock art panel.
Service animals are allowed in national parks.  Pets are not allowed on this trail. What is a service animal?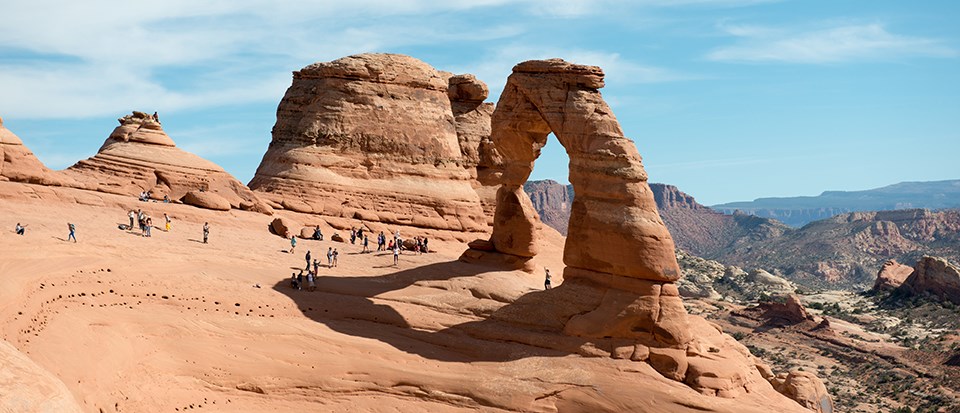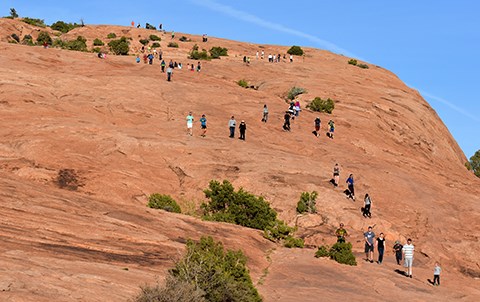 Beyond Wolfe Ranch, the trail climbs rolling hills then begins a steep ascent on a bare rock slope. This rock slope has no shade and can be very hot in summer months. We recommend avoiding this trail in midday summer heat. If you're hiking in summer, start early.
Toward the end of the trail, you'll follow a narrow rock ledge with exposure to heights. The arch sits on the edge of a sandstone bowl with steep slopes. In winter, ice and snow can make this trail treacherous. We recommend carrying over-the-shoe traction devices
Carefully consider weather conditions (summer heat or winter ice) and your own health and fitness before beginning this hike. Rangers frequently rescue people who underestimated the trail's difficulty.
Last updated: February 14, 2019