THING TO DO
Explore Human History at Wolfe Ranch

In 1898, a nagging leg injury from the Civil War prompted 69-year-old John Wesley Wolfe to leave his wife and three of his children in Etna, Ohio, and seek a drier climate. He brought his oldest son, Fred, with him, and the two settled a 100+-acre property along Salt Wash, just north of the village of Moab and close to a fresh water spring.
Today you can take a short stroll to see the Wolfe family's humble dwelling, a simple one-room cabin, in what would have been a desolate place in the early 1900s. Read more about the Wolfes and how they lived here.
Entrance fees may apply, see Fees & Passes information.
Time of Day
Day, Dawn, Dusk
Accessibility Information
The trails around the Wolfe Ranch and Ute Panel area are flat, hard-surfaced, and accessible to wheelchairs. 
Pets are not allowed on these trails, but service animals are welcome.


Beyond Wolfe Ranch, you can see evidence of even earlier human activity in the area. A modern bridge crosses Salt Wash as the trail continues to a nearby petroglyph panel. The stylized horse and rider surrounded by bighorn sheep and dog-like animals is typical of Ute rock art. These figures were likely carved between 1650 and 1850 CE (Common Era).
This panel is important to many American Indians of the region because it was carved by their ancestors. Help protect the rock art by not touching it. Read more about American Indians at Arches National Park.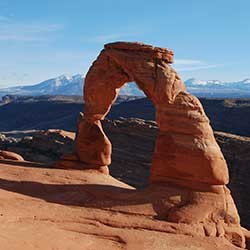 Delicate Arch
From the Ute Panel, you can return to the parking lot by the main trail. Beyond the Ute panel, a difficult trail climbs 1.5 miles (2.4 km) steeply to Delicate Arch. If you want to see the arch without hiking to it, you can return to the Wolfe Ranch parking lot and drive a mile down the road to Delicate Arch Viewpoint.
Practice safe hiking. Avoid hiking in midday summer heat. Carry and drink water and eat salty snacks during your hike. Read more about staying safe.
Last updated: February 15, 2019