THING TO DO
Stroll to Double Arch

The Double Arch trail (0.5 mi/0.8 km roundtrip) is a relatively flat, gravel-surfaced path which leads to the base of two huge arching spans. Double Arch is the tallest (112 ft/34 m) and second-longest (144 ft/44 m) arch in the park. The glorious giant is also viewable from the parking area (without hiking) and may be wheelchair accessible with assistance.
A trail climbs stairs to the upper parking lot and the Windows trailhead. Consider parking in one place and walking between the two lots, if you want to explore.
The parking lot at Double Arch regularly fill to capacity. Consider leaving and coming back at a later time if the lot is full – waiting for a spot can cause significant congestion. Avoid crowds (and the heat) by visiting in the early morning hours or late afternoon.
Visiting The Windows Section can be a thrilling and rewarding experience for visitors of all ages. Help protect the park by leaving no trace and staying on established trails.
Entrance fees may apply, see Fees & Passes information.
Location
Double Arch Trailhead
Double Arch is located at The Windows Section, about 9 miles (14.5 km) north on the park road and 2.5 miles (4 km) east on the Windows road. The drive-time from Arches Visitor Center is approximately 25 minutes.
In summer, we recommend hiking early in the morning or late in the afternoon to avoid the hot temperatures. Always carry and drink water when hiking.
In winter, snow or icy conditions may make this trail treacherous. Use caution. We recommend traction devices in winter.
Accessibility Information
Double Arch trail is unpaved, but it is considered barrier free. Wheelchairs may need assistance following rain or snow, when the trail can be icy or muddy.

Pets are not allowed on this trail, but service animals are welcome.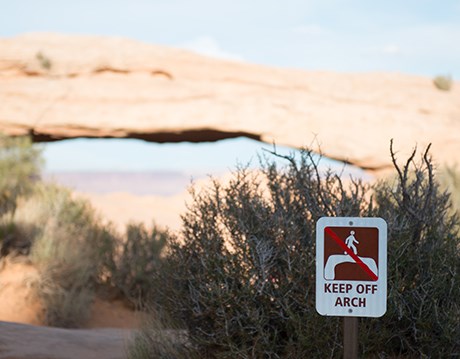 ---
Protect your park. Protect yourself.
To protect the park, keep yourself safe, and allow everyone to enjoy their views of these geological formations, do not walk or climb on any arches.
Practice safe hiking. Avoid hiking in midday summer heat. Carry and drink water and eat salty snacks during your hike. Read more about staying safe.
Biological soil crust is a living groundcover that forms the foundation of high desert plant life in Arches and the surrounding area. This knobby, black crust is dominated by cyanobacteria, but also includes lichens, mosses, green algae, microfungi and bacteria. Soil crust binds sand and rock particles together which allows plants to establish their roots. They also provide desert plants moisture and nutrients in otherwise inhospitable environment. You can help preserve these fragile and unique life-forms by staying on established trails.
Last updated: March 19, 2019