THING TO DO
An Afternoon at Moro Rock and Crescent Meadow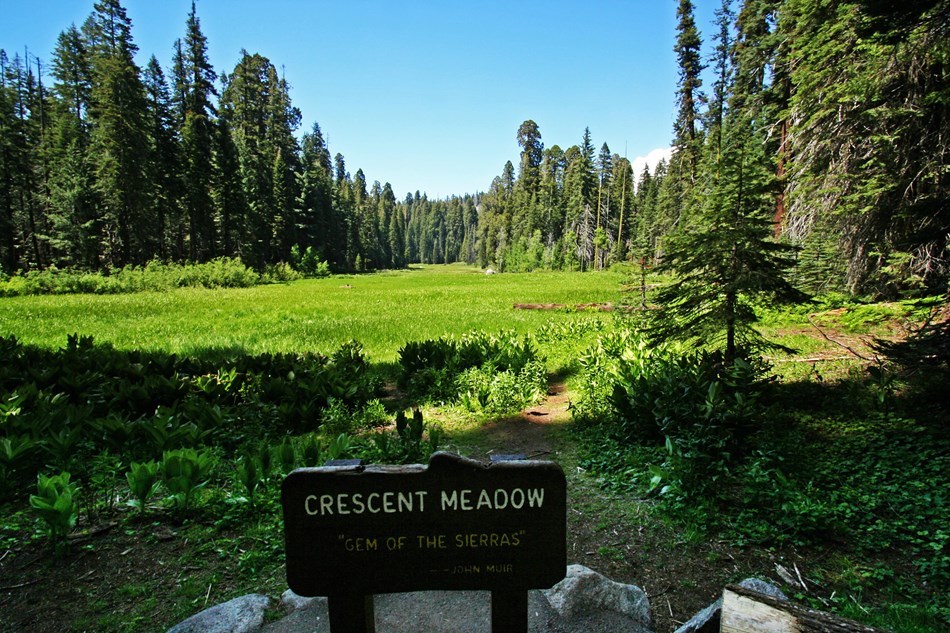 Discover stunning vistas and views while picnicking in a forest meadow. Park by Giant Forest Museum and pick up a trail map if you plan to explore the trail system. In summer, hop on the Grey Route 2 shuttle to Moro Rock/Crescent Meadow. Stop first at Moro Rock, and be prepared for a climb up 350 steps. Take breaks and bring water. Here you'll ascend the granite dome that towers over the valley and offers spectacular 360 degree views of the parks, the Great Western Divide, and San Joaquin Valley. In early summer, listen for peregrine falcons nesting on the cliffs below!
After your climb, head to Crescent Meadow, 1.7 miles east by foot or shuttle. Crescent Meadow is one of the largest meadows in the Sequoia forest. Bring a picnic, explore the many trails, scout for wildlife, or just relax in the tranquil forest. For a short hike, go along the Log Meadow Trail, which leads to Tharp's Log, a historic log cabin built into the trunk of a fallen sequoia. When you're ready, take the Grey Route 2 shuttle back to Giant Forest Museum.
Entrance fees may apply, see Fees & Passes information.
Moro Rock and Cresent Meadow are accessible year-round. The Sequoia Shuttles operate during the summer only.
Last updated: July 23, 2018