Distance Learning
What is our Role in Ocean Stewardship?
Grade Level:

High School: Ninth Grade through Twelfth Grade

Subject:

Science

State Standards:

Next Generation Science Standards:
HS-LS2, HS-LS2-7, HS-LS4, HS-LS4-5, HS-LS4-6, HS-ESS2, HS-ESS2-4, HS-ESS2-6, HS-ESS3, HS-ESS3-4, HS-ESS3-5.
National Science Standards:
NS. 9-12.6, NS. 9-12.1.
Background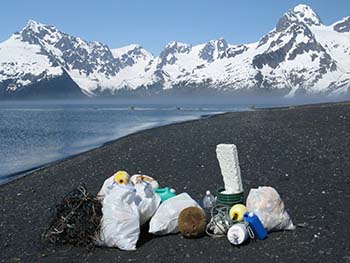 A National Park Ranger will guide students through a facilitated dialogue program focused on marine debris as a global ocean issue. Instead of handing out answers the ranger will ask questions aimed to engage students in a meaningful conversation. This program will be supplemented with relevant photo and video content including information from the Kenai Fjords area.
Kenai Fjords education staff can visit your classroom for free using H.323 video conference technology (Polycom, Cisco/Tandberg, LifeSize, etc). 
Program Length:
This program is 50-60 minutes long.
Program resources:
How to register:
Registration opens October 1st. Spaces are limited and registration is handled on a first-come, first-served basis. Registration can easily be done through the Center for Interactive Learning and Collaboration (CILC). Contact our education staff with any questions.
Our free, interactive presentations are available from November through March. 
Note: Please be aware that Alaska is in the Alaska Time Zone and follows daylight savings time changes. Programs cannot start any earlier than 7 a.m. in the Alaska Time Zone, which means programs for schools in Eastern Time cannot start before 11 a.m., Central Time 10 a.m., Mountain Time 9 a.m., and Pacific Time 8 a.m. Please consider this when listing your available times on the registration form.
Last updated: November 29, 2016