Lesson Plan
The Bear Essentials - Grades 3 and 4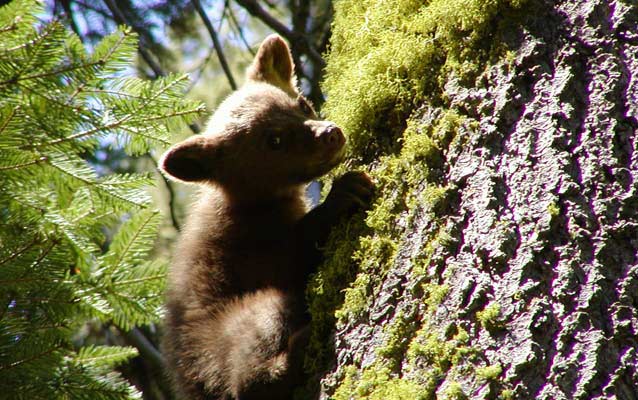 Grade Level:

Upper Elementary: Third Grade through Fifth Grade

Subject:

Science

Lesson Duration:

60 Minutes
Objective
After completing this lesson, 3rd and 4th grade students will be able to:
1. Explain why black bears are dormant during the winter.
2. Identify two senses black bears rely on for finding food and sensing danger.
3. Discuss what happens when black bears become accustomed to eating human food.
Background
Bears capture our imagination as few other animals do. They have inspired stories and cul-tural icons such as Winnie the Pooh, Yogi bear, Paddington bear, Goldilocks and the Three Bears, Smokey Bear, and teddy bears. They appeal to many of our emotions and values: fear, humor, grace and strength.
Seeing a bear in the wild is an unforgettable experience. Sequoia and Kings Canyon National Parks—right in your backyard—is home to the American black bear, which is one of the 8 species of bears found in the world. Black bears are found only in North America. Today, we will learn about these fascinating bears and how our behavior influences bear behavior and how bear
behavior influences us.
Materials
Download 3rd Grade Pre-Visit Activity 1
Download 3rd Grade Pre-Visit Activity 2
Download 3rd Grade Post-Visit Activity 1
Download 3rd Grade Post-Visit Activity 2
Download 4th Grade Pre-Visit Activity 1
Download 4th Grade Pre-Visit Activity 2
Download 4th Grade Post-Visit Activity 1
Download 4th Grade Post-Visit Activity 2
Contact Information
Last updated: January 5, 2017