Lesson Plan
Southern Paiute Cultural History Curriculum Guide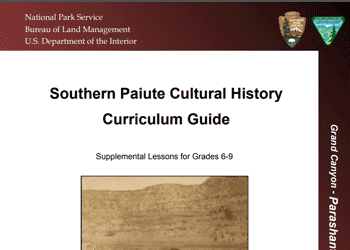 Grade Level:

Middle School: Sixth Grade through Eighth Grade

Subject:

Social Studies

Lesson Duration:

60 Minutes

Common Core Standards:

8.SL.1.d

State Standards:

See your state standards.

Additional Standards:

See your district standards.
Objective
Overview: Welcome to the Grand Canyon – Parshant National Monument Southern Paiute Cultural History Curriculum Guide. These supplemental lessons about the Southern Paiute history and cultural resources of the Monument, are designed for grades 6-9 educators to introduce students to the rich history and legacy of the Southern Paiute people.
Background
The purpose of the Grand Canyon – Parashant National Monument Southern Paiute Cultural History supplemental curriculum lessons is to provide opportunities for students to learn about the region's cultural history. Studying about past cultures and traditions provide a context for deeper understanding that link s today's Southern Paiute people with their rich cultural legacy . Archeology helps to provide a better understand ing of these connections.
The Bureau of Land Management, in conjunction with the National Park Service and the Pauite Tribe have developed a curricular unit pertaining to the Parashant National Monument - which intersects with the Old Spanish Trail. Activities include lessons plans, vocabulary, map analysis and cognitive organizers, and teach students about the community, culture, history and archeology of Paiute life.
Unit plan: https://www.nps.gov/para/learn/education/upload/Southern_Paiute-_Curriculum.pdf
Preparation
See lesson plan.
Materials
Lesson Hook/Preview
See lesson plan.
Procedure
See lesson plan.
Vocabulary
See lesson plan.
Contact Information
Last updated: July 12, 2017