Lesson Plan
See, Wonder and Think about Bent's Old Fort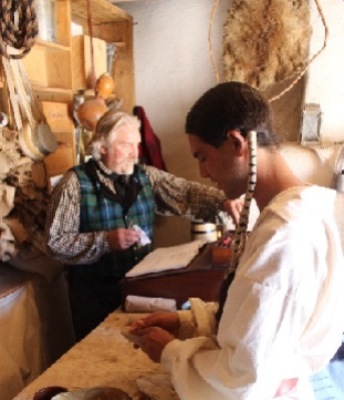 Grade Level:

Upper Elementary: Third Grade through Fifth Grade

Subject:

Social Studies

Lesson Duration:

30 Minutes

Common Core Standards:

2.L.3, K.SL.3, K.SL.6, 1.SL.1.b, 1.SL.4, 1.SL.6, 2.SL.1, 2.SL.1.b, 2.SL.1.c, 3.SL.1, 3.SL.6, 4.SL.1

State Standards:

Visual Arts
History
Civics

Thinking Skills:

Applying: Apply an abstract idea in a concrete situation to solve a problem or relate it to a prior experience. Analyzing: Break down a concept or idea into parts and show the relationships among the parts. Creating: Bring together parts (elements, compounds) of knowledge to form a whole and build relationships for NEW situations.
Objective
See, Wonder and Think
Students will use critical thinking skills to observe, question and find clues to answer their questions about pictures taken around Bent's Old Fort National Historic Site.
Background
You can go to Nps.gov/BEOL for information about Bent's Old Fort National Historic Site.
Bent's Old Fort National Historic Site features a reconstructed 1840s adobe fur trading post on the mountain branch of the Santa Fe Trail where traders, trappers, travelers, and the Cheyenne and Arapaho tribes came together in peaceful terms for trade. Today, living historians recreate the sights, sounds, and smells of the past with guided tours, demonstrations and special events. 
Some topics that might come up with this activity
Bents Fort is built of adobe. If this topic is mentioned, talk about what might be the pros and cons of living and working in an adobe fort.
If students could see a picture with the flag well, they might observe less stars representing the time period -1846. 
Students might observe a canon, a bastion, and holes near the top of the fort, giving clues to the defense of the fort.
A log pile, but not many trees around. Men take trips to collect wood together.
Wood sticking out of the fort – this area was the first part to be built of the fort.
Grasslands- ecosystem ecology
Clothing on people
Food
Activities
Preparation
Look over the pictures. If you have any questions, contact Bent's Old Fort National Historic Site. We are happy to help. This lesson is mainly about observing pictures to provoke interest in the subject of Bent's Old Fort. Look for other lessons related to Bent's Old Fort to continue to immerse your students in the history of the fort. 
Materials
These are pictures of the reconstructed Bent's Old Fort, activities during events, and painting from 1840s by Lieutenant Abert.
Download Bent's Old Fort Picture Resources
Lesson Hook/Preview
Look for other lessons posted about Bent's Old Fort. 
Procedure
Instruct the students that they will be observing a picture. They are not to make any inferences; they are just to look for details in the picture.
SEE- Show a picture of Bents Fort. It could be a modern picture without people in it, or it could be a painting of the original fort. Students quietly observe the picture for one minute.
Students write their observations on paper. "Write three things that you saw."
Students share their observations in pairs. They later share their observations with class.
Wonder- What do you wonder about what you saw? What questions do you have about this picture? First students write their questions on a paper independently, and then they share their questions with the group. They choose a question that most students in their group have a similar question to.
Think- Students try to answer their question based on what they observe in the photo. Teacher guides conversations.
You can read thi passage written by Susan Magoffin about her experience first viewing the fort.
"Well the outside exactly fills my idea of an ancient castle. It is built of adobes, unburnt bric, and Mexican style so far. The walls are very high and very thick with round corners. There is but one entrance, this is to the East rather."
Repeat the activity with pictures of the inside of the fort, and/or pictures of the fort with people in it. Repeat activity as a whole class, or place pictures around the room. Pictures have space for students to write See, Wonder, Think. 
Vocabulary
Adobe- A kind of clay used as a building material, typically in the form of sun-dried bricks
Buffalo Robe- A Rug, cloak, or blanket made from the dressed hide of a North American bison.
Assessment Materials
See, Wonder, Think- Introduction to Bent's Fort
This activity introduces the students to Bents Old Fort National Historic Site. It could also be used throughout the course using different pictures to illustrate different aspects of Bents Fort history.
This activity tries to excite students to learn more about Bent's Old Fort, by having students analyze pictures and use critical thinking skills. 
Additional Resources
Bent's Old Fort webpage- https://www.nps.gov/beol/index.htm
Facebook- https://www.facebook.com/NPSBentsFort/
Contact Information
Last updated: December 13, 2016