Lesson Plan
19th Century Music and Dance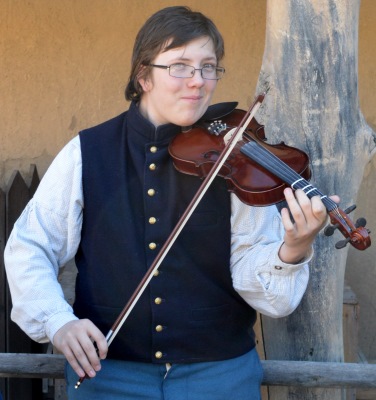 Grade Level:

Upper Elementary: Third Grade through Fifth Grade

Subject:

Social Studies

Lesson Duration:

90 Minutes

State Standards:

History
Music
Dance
Physical Education

Thinking Skills:

Understanding: Understand the main idea of material heard, viewed, or read. Interpret or summarize the ideas in own words. Applying: Apply an abstract idea in a concrete situation to solve a problem or relate it to a prior experience. Analyzing: Break down a concept or idea into parts and show the relationships among the parts. Creating: Bring together parts (elements, compounds) of knowledge to form a whole and build relationships for NEW situations.
Objective
Students will have an opportunity to experience an aspect of life of the 19th century by listening to and dancing to music of that time period.
Background
Music of different eras give us insight into those eras. Fast, upbeat songs usually come from a time of prosperity while slow, somber songs come from a time of war and struggle. 

Lewis Gerrard wrote of a fandango (dance) at Bent's Fort in his book Wah-To-Yah and the Taos Trail. 
Songs:
Through the courtesy and research of Mr. Mark Gardner, the following list of Fur Trade Era Songs and their dates has been made available. These songs may have been played at Bent's Fort. 
Home Sweet Home- 1828
The Minstrel's Return from the War - 1827
The Hunters of Kentucky - 1824
The Girl I left behind Me - 1758
Drink to me only with thine Eyes - Late 1700s
Hail Columbia - 1798
The Warrior's Return - 1801
Believe Me if All those endearing young charms - 1817
The Ministrel Boy - 1813
The Last Rose of Summer - 1813
Farewell to Home - 1830's
The Old Oaken Bucket - 1828
Roslin Castle - 1830's
Springfield Mountain - 1700's
Turkey in the Straw - 1835
Zip Coon (same tune as Turkey in the Straw) - 1835
Blue Bonnets Over the Border- 1830's
Coming Thru the Rye - 1828
Jump Jim Crow - 1837
Such a Gittin Upstairs (Ministrel Tune) - 1830's
Frog Went a Courting - 1830's
Poor Wayfaring Stranger - 1835
Rio Grande - 1840's
Down Among the Dead Men - 1830's
Joe Bowers - 1840's
The Indian Hunter - 1837
Annie Laurie -1838
Benny Haven's Oh! (West Point Drinking Song) - 1838
Rosin the Beau - 1838
Old Grey Goose - Early 1800's
Long, Long Ago - 1840's
Kathleen Mavourneen - 1840
We Won't go Home Till Morning - 1842
Old Dan Tucker - 1843
My Old Aunt Sally - 1843
Uncle Sam and Mexico - 1846
The Fine Old English Gentlemen - 1830's
The Blue Tailed Fly (Jimmy Cracked Corn) - 1846
Buffalo Gals - 1844
Miss Lucy Neale - 1844
Vive Le Compagnie-(Vive L'Amour) - 1844
Woodman! Save That Tree - 1837
Rocked in the Cradle of the Deep - 1840
Arkansas Traveller - 1847
Dances:
THE SPANISH CIRCLE WALTZ: Circa 1824.
(One large circle, couple facing couple all around ballroom.) Partners join hands, balance forward and back towards opposite couple. Each gentleman takes opposite lady's left hand in his right and makes ¼ turn to new position, taking opposite lady as new partner. Repeat three more times to regain original partners and places. All waltz partners one and a half around opposite couple and face next couple in line of direction. Repeat from beginning. 
WALTZ: Circa 1840 (Waltz Position).
(Gent) Step back on left, turning (count 1); step to right side with right foot, still turning (count 2); close left to right, still turning (count 3). Repeat all with other foot continuing to turn in same direction.
POLKA: Circa 1844 (Waltz Position).
Hop on right foot (count "and"); slide left foot to left (count 1); close right to left (count "and"); spring lightly back on left, turning (count 2). Repeat all with other foot.
GALOP: Circa 1820 (Waltz Position).
Slide-close with 3 fast chasse steps to (gents') left, make half turn; (2 measures) 3 chasse steps to right, half turn; (2measures). Or 7 slides to left, turn; 7 slides to right, turn, etc. varying directions at will.
Preparation
If you have a music teacher, communicate with them to help lead the music and dance sessions at the time you are teaching about the history of Bent's Fort. 
Gather period appropriate music. Cds are available for sale at the Western National Parks Association at Bent's Old Fort National Historic Site.
Contact Bent's Old Fort National Historic Site for any questions relating to the lesson. 
Lesson Hook/Preview
Watch Lewis Gerrard's Visit To Bent's Fort in 1846 for a preview into the life at Bent's Fort, including a glimpse of a fandango. 
Procedure
Music Activity:
Use your music teacher as a resource. Let them know when you plan on teaching about Bent's Fort and the 1800s. Music CDs are available from the WNPA at Bent's Fort.
Play music of the era. Have students answer questions on how they feel about the music.

Is it happy music? Fast paced?
Does this say something about the era?
Compare to an era with different music.
End the session with "What does today's music say about your era?"
Have students play music, with instruments if possible, from the era. Communicate with staff at Bents Old Fort if you would like your students performing their music at the fort. 
Old Dan Tucker
Listen and discuss the song.
Learn to play the song with musical instruments (preferably time period appropriate).
Learn to square dance to the song.
Have some students play the song, while other students dance to it.
Communicate with Bent's Old Fort if you would like to have your students perform at the fort. 
Learn 19th Century Dances
Round dance is a simple one to learn and teach.
When it's time to teach dances, you could teach more advanced 19th century dances and hold a fandango.
If students learn a few 19th century dances, you could communicate with staff from Bents Old Fort NHS to have students perform at Bents Old Fort.
Teacher has a list of dances. Have students in groups look up the different dances (on youtube), each group teaches a different dance to the class.

List of Early 19thcentury dances that could have been performed at Bents Fort:

The Grand March
La Ristori Schottische
Quadrille 
The Rachel Waltzes
Spanish Dance
Virginia Reel
Farewell Waltz
Vocabulary
Fandango - Dance. The word is of spanish origin. 
"Tin the evening I went to the fandago, and met with a merry and happy-hearted set. They all danced, and scarce a moment during the evening but what the floor was occupied with couples whirling in the graceful waltz. They danced the "cumbe," the waltzed, and danced again. The alcalde and his wife sat at the head of the room; she had a black bottle full of aguardiente," this she dealt to the most honored, and a peasant went round the room selling apples. The music was produced by guitars, violins, and voices. The singers composed their songs impromptu; and often the listeners would burst forth into lengthened peals of laughter, at some happy stroke of the witty improvisator."
- Peter Hurd, "Abert's New Mexico Report 1846-'47," page 108
"Respecting fandagos, I will observe that this term, as it is used in New Mexico, is never applied to any particular dance, but is the usual designation for those ordinary assemblies where dancing and frolicking are carried on; baile (or ball) being generally applied to those of a higher grade. The former especially are very frequent; for nothing is more general, throughout the country, and with all classes of dancing. From the gravest priest to the buffoon—from the richest nabob to the beggar—from the governor to the ranchero—from the soberest matron the flippant belle—from the grandest senora to the cocinera—all partake of this exhilarating amusement. To judge form the quantity of tuned instruments which salute the ear almost every night in the week, one would suppose that a perpetual carnival prevailed everywhere. The musical instruments used at the bailes and fandagos are usually the fiddle and bandolin, or guitarra, accompanied in some villages by the tombe or little Indian drum. The musicians occasionally acquire considerable proficiency in the use of these instruments. But what most oddly greets, and really outrages most Protestant ears, is the accompaniment of divine service with the very same instruments, and often with the same tunes."
-Josiah Gregg, "Commerce of the Prairies," page 170
Contact Information
Last updated: December 19, 2016