Lesson Plan
Job - Card Sorting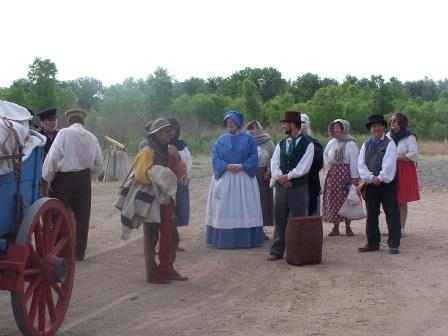 Grade Level:

Upper Elementary: Third Grade through Fifth Grade

Subject:

Social Studies

Lesson Duration:

30 Minutes

Common Core Standards:

4.L.1, 4.L.1.f, 4.L.3, 4.L.3.a, 4.L.4.c

State Standards:

History

Thinking Skills:

Remembering: Recalling or recognizing information ideas, and principles. Understanding: Understand the main idea of material heard, viewed, or read. Interpret or summarize the ideas in own words. Applying: Apply an abstract idea in a concrete situation to solve a problem or relate it to a prior experience. Analyzing: Break down a concept or idea into parts and show the relationships among the parts.
Objective
Students sort jobs of Bent's Fort into different categories and discuss their reasoning.
Background
This activity is mainly to provoke discussion amongst students about the different jobs and roles that were at Bent's Fort.
There were many different workers at Bent's Fort. All of these workers helped make Bent's Fort a successful fur trading company from 1833-1849. The main part of the trading post was to trade Buffalo Robes with the plains Native American tribes (mostly Cheyenne, Arapaho, Kiowa, Comanche, Apache) and trade those buffalo robes in the east for a profit. Bent's Fort was the center of the trade for the Bent, St. Vrain Company, though the company did have smaller posts. 
The owners of the Bent, St. Vrain company were William Bent, Charles Bent and Ceran St. Vrain. William Bent married Owl Woman, a Cheyenne Indian, which helped with trade negotiations with the Cheyenne tribe. 
Although, Bent's fort was always the scene of some trading activity with visiting Indians, by far the most profitable aspect of Bent's business was he field operations. Here he might employ as many as 4 or 5 men to visit scattered Indian camps and trade for robes. These traders, of course, were carefully picked because of their knowledge of and friendship with various tribes and a list of their names includes many of the most famous pioneers of the Southwest. Employed at one time or another by William Bent were Tom Boggs, William Boggs, Kit Carson, Lucien Maxwell, John Smith, Jim Beckwourth, John Hatcher, William Guerrier, "Uncle Dick" Wootton, Sol Silver, and "old" Bill Williams.
Mexicans were hired as laborers for their knowledge of working with adobe and experience for other laborer duties, such as taking care of livestock. It was recorded that the people working at Bent's Fort was largely hispanic. Mexico was across the Arkansas River located close to Bent's Fort.
Company trappers and free trappers spent the majority of their time in the mountains catching beaver and other mammals to trade.  
Domestic workers (cooks) usually consisted of the wives of the workers. There is only one record of a Euroamerican woman working as a cook at Bent's Fort. Charlotte was a black slave of the Bent family. She was known for making the best pumpkin pies and being the "Belle of the Ball" during Fandangos (dances). Otherwise, the women of the fort consisted of Indians and Mexicans. There could potentially be a male cook. 
The carpenter and blacksmith usually work closely. Their main job was to fix the wagons. The wagons carried all of the trade goods. The blacksmith would also make and fix horse, mule and oxen shoes when needed. 
It was rare for a trained doctor to go west for work. Usually men on the Santa Fe Trail had some medical knowledge (of the time) to help each other in different medical situations. A doctor at the fort may have been hired as a different job but with little medical training and a medical book available, he could become the fort doctor. One recorded doctor at the fort was Doctor Hempstead. 
The fort was mostly a seasonal fort. Workers may only live and work at the fort temporarily. Other travelers on the Santa Fe Trail would, only rarely, be able to make arrangements to sleep inside the fort. Lewis Gerrard wrote in his book Wah-To-Yah and The Taos Trail, that he arranged to stay in the fort for $1 a day. It was rare that a person learned how to read and write. 
Preparation
Unless you are using this activity as an introduction to jobs at Bent's Fort, the students should be prepared with some knowledge of the various roles.
Students learn about the various 19th century jobs at Bent's Fort either through individual research, a class trip to Bent's Old Fort NHS or class discussions and lessons. 
Materials
List of jobs you can print and cut out.
Procedure
Students are in small discussion groups.
Each group receives cards, (or are told to write and make their own) with roles of people who were at Bents Fort. (Carpenter, Blacksmith, Laborer, Company Trader, Owner, Cook, Laborer's wife, Indian Agent, Doctor, Guard, Clerk, Native Americans, Mexicans, Euroamericans).
Give the students different situations to sort these roles into. (Interpretation could vary for each question). Students discuss their reasoning.
Who sleeps inside the fort?
Who eats in the dining room?
There was basically a caste system, sort the cards into which workers are considered higher in society at Bents Fort.
People who had more opportunity to decide their own role.
People who needed an education for their role.
Other places these people could live and work. 
Additional Resources
Information about various jobs could be found in books, YouTube clips and talking to living historians at Bent's Old Fort National Historic Site. 
Bent's Old Fort NHS YouTube page
Bent's Old Fort National Historic Site - Part 1 of a Series Examining the Connections Between Humans and Nature Along the Santa Fe Trail YouTube Video
Related Lessons or Education Materials
Moving and Learning Jobs at Bent's Fort Lesson Plan
Write About A 19th Century Job Worksheet
Contact Information
Last updated: December 24, 2016