Distance Learning
Conservation Career Opportunities for Youth
Grade Level:

High School: Ninth Grade through Twelfth Grade

Subject:

Science,Social Studies

State Standards:

Aligns with college and career readiness aspects of the Common Core and Career and Technical Education (CTE) standards.
Background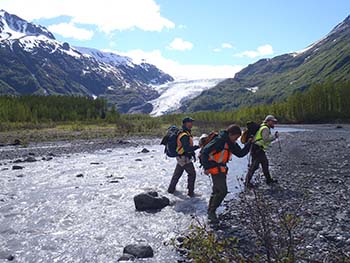 Have you ever visited a national park and wished you could one day be employed at a job like that?
Park rangers work jobs in a wide variety of fields: Research Scientist, Law Enforcement Officer, K-12 Educator, Human Resource Specialist, Interpreter, Information Technician, Grounds Keeper, Construction Worker, Boat Captain and so many more.
This 45 minute program will give students a chance to learn about careers in the National Park Service. The ranger will answer questions on what it is like to work for the National Park Service and will discuss conservation based job and internship opportunities available to ages 15 and up through national parks and with partners such as the Student Conservation Association and Youth Conservation Corps.  
Kenai Fjords education staff can visit your classroom for free using H.323 video conference technology (
Polycom, Cisco/Tandberg, LifeSize, etc). 
Program resources:
How to register:
Registration opens October 1st. Spaces are limited and registration is handled on a first-come, first-served basis. Registration can easily be done through the Center for Interactive Learning and Collaboration (CILC). Contact our education staff with any questions.
Our free, interactive presentations are available from November through March. 
Note: Please be aware that Alaska is in the Alaska Time Zone and follows daylight savings time changes. Programs cannot start any earlier than 7 a.m. in the Alaska Time Zone, which means programs for schools in Eastern Time cannot start before 11 a.m., Central Time 10 a.m., Mountain Time 9 a.m., and Pacific Time 8 a.m. Please consider this when listing your available times on the registration form.
Last updated: November 29, 2016