Lesson Plan
Build an Adobe Fort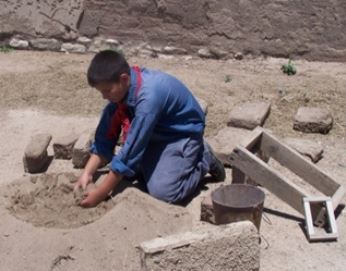 Grade Level:

Upper Elementary: Third Grade through Fifth Grade

Subject:

Science,Social Studies

Lesson Duration:

60 Minutes

State Standards:

History
Geography
Economics
Visual Arts

Thinking Skills:

Applying: Apply an abstract idea in a concrete situation to solve a problem or relate it to a prior experience. Creating: Bring together parts (elements, compounds) of knowledge to form a whole and build relationships for NEW situations.
Essential Question
How is a small adobe fort built?
Objective
Students will make decisions while building a small adobe fort.
Students will learn about resource use in construction of Bent's Fort.
Background
Bent's Old Fort is built from adobe. 100 Mexican laborers were hired by the Bent, St Vrain and Company to build the fort. Some were hired on to maintain the fort. The adobe is defensive because it is strong enough that cannon balls cannot go through it, it cannot burn from the outside and it is cheap. On the other hand, any moisture turns the adobe back into mud and the fort melts unless maintained. Supporting the ceiling, are large logs (Vigas) and smaller logs (Latias.) This is a characteristic of ceilings in adobe construction.
Preparation
Warn students a day in advance that they might get their clothing dirty during the lesson. 
You could decide to just use natural materials found outside, prepare adobe or a combination for this activity. 
To prepare adobe mixture: 
30-lb Clay (from garden or building supply companies)·
50-lb. bag of sand 
Water
Hay or dead grass clippings
Brick molds
 
Lesson Hook/Preview
Watch the movie- They came to Build: The Reconstruction of Bent's Fort (Available in the Santa Fe Trail Traveling Trunk)
Procedure
Ask students to write, or discuss in small groups, if they were to build a fort, what would they include to make it defensive.
Take students to an outdoors area (for easy cleanup.) Have groups of students build small models of a fort using mud, sticks, and any natural items you could find nearby. Students are on a time limit and have to think what they could use in the time they have. 
Test the strength of the various forts that were built. Could they hold a rock? Multiple rocks?
Students create adobe bricks by mixing clay, sand, water and hay. Pour mixture into a mold or have students shape the adobe by hand. Let dry (hours or days depending on climate.) 
Vocabulary
Adobe- Sediment such as Sand/silt/clay, mixed with water and hay and set to dry to form bricks. 
Related Lessons or Education Materials
Adobe Making Lesson.pdf from San Antonio Missions National Historic Park
Contact Information
Email us about this lesson plan
Last updated: September 7, 2018