Lesson Plan
19th Century Games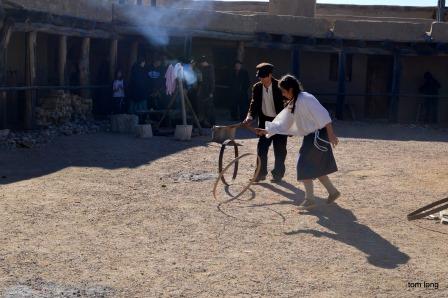 Grade Level:

Upper Elementary: Third Grade through Fifth Grade

Subject:

Social Studies

Lesson Duration:

30 Minutes

State Standards:

Recognize the benefits derived from regular, moderate, and vigorous physical activity (Compare the average physical fitness needed for living in the 19th century compared to the 21st century).

Additional Standards:

History
Physical Education

Thinking Skills:

Remembering: Recalling or recognizing information ideas, and principles. Understanding: Understand the main idea of material heard, viewed, or read. Interpret or summarize the ideas in own words.
Objective
Students will play a 19th century game.
Students will compare games played today to games of the 19th century.
Preparation
Talk to the physical education teacher at your school to coordinate playing the 19th century games while you are teaching 19th century history or lessons about Bent's Fort. 
Procedure
Play a 19th century game.
Discuss how many games and pastimes, especially for Native Americans, helped teach skills to children that they would use as adults.
Why would children need to stay fit if they lived at Bent's Fort?
Examples of Games:
Hoop and stick and be used for coordination, speed, reaction time. They could be running while moving the hoop with the stick. This could be a relay race. They could also have one person roll the hoop; the other person throws the stick through the hoop.
Cup and ball
Sing and Play "Skip to my Lou"
Hopscotch
Rounders Shinny (a dangerous game)
Double Ball
Archery
Contact Information
Last updated: December 19, 2016