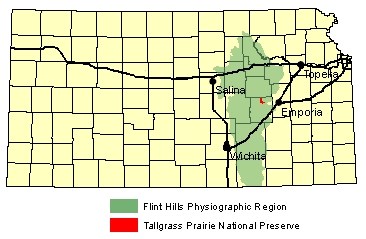 Few places in the country demonstrate the connection between landscapes and people better than the tallgrass prairie of the Flint Hills. The hills of the Tallgrass Prairie National Preserve and the surrounding area are shaped by the rocks that lie directly beneath the vegetation and soil - the same rocks which made cultivation difficult and led to the use of native prairie grasses for ranching. This rocky terrain is closely tied to today's ranching culture.

The Flint Hills are characterized by thin soils, limestone outcrops, vegetation-covered shale intervals between the limestones, deeply incised valleys, and dissected topography. The Flint Hills cross east central Kansas from the north near the Nebraska border and extend into Oklahoma to the south. Many of the limestones contain nodules and layers of flint (also called chert) - a hard, dense rock that resists erosion. As the limestones erode, angular fragments of flint accumulate at the surface, giving the Flint Hills their name.
The thin, rocky soils and steep slopes of the Flint Hills have precluded cultivation, effectively preserving the native grasslands. Historically, only deep ravines and the flood plain of streams were forested. Most cultivation is limited to river and stream bottoms, such as along Fox Creek, just east of the ranch headquarters area; there, the bedrock is covered by a layer of river-deposited sediments that have developed thick soils that are especially valuable for cultivation.
Differential Erosion