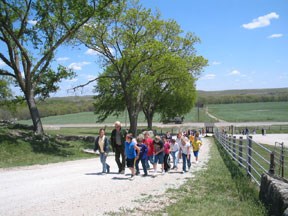 Please call ahead 620-273-8494 (hit 0) to make a free reservation.
Historic House, Barn, and Trail Tour - 2 hours. Children are divided into groups and led by park rangers on a two-hour tour of the historic house, barn, outbuildings, Southwind Nature Trail, and Lower Fox Creek School. There is no charge for the tour. Reservations are required at least two weeks in advance for this activity and can be made by calling the preserve at 620-273-8494 (hit 0). To better serve the children and our visitors, we can only present one school tour per day. Dates fill quickly, so call now to reserve your space. There are still spaces available for this activity.

Bus Tour of the Prairie - 1 - 2 hours. This program provides a chance for students to experience the tallgrass prairie environment via our 28 adult passenger bus. The bus will stop and allow students to get out into the prairie grass, while the ranger talks about the prairie ecosystem. For larger groups, we divide the students and allow one group to go on the bus tour, while the other tours the historic ranch buildings (via a teacher). Then the group swaps, so all students visit the prairie.

With limited staff resources the rangers may only have two people working on any given day, so a reservation is required. Please call 620-273-8494 (hit 0). If you need wheelchair assistance, we have a 22 passenger bus equipped with a lift. Bus tours are limited to May through October.

If parents will be accompanying your group, please note that the student's experience is focal to the program. With limited staff resources we will try our best to accommodate as many people as possible, but we cannot guarantee that all adults will be able to go on the tour. Please let us know how many students and adults will be attending the field trip, so we can make your visit a pleasant one.