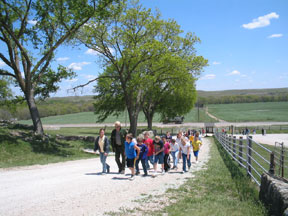 Please call ahead (620-273-8494) for tour availability.
Historic House, Barn, and Trail Tour - 2 hours. Children are divided into groups and led by park rangers on a two-hour tour of the historic house, barn, outbuildings, Southwind Nature Trail, and Lower Fox Creek School. There is no charge for the tour. Reservations are required at least two weeks in advance for this activity and can be made by calling the preserve at 620-273-8494. To better serve the children and our visitors, we can only present one school tour per day. Dates fill quickly, so call now to reserve your space. There are still spaces available for this activity.

Visit our Education Page to learn more about what programs we provide at the preserve.