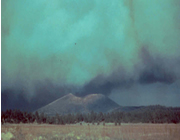 "Unpredictable" best describes the weather at Sunset Crater Volcano National Monument. Located at 7000' (2333 m) elevation on the edge of the San Francisco Peaks, the monument is subject to abrupt weather changes. Warm air hitting the Peaks is uplifted and cooled, forming clouds. Precipitation falls as snow in fall and winter and as rain in summer. Because the Peaks can divert air masses south to Flagstaff or north to Sunset Crater Volcano, weather can vary greatly between the two locations.
Spring: As the mercury bounces up and down during this most variable season, one thing remains constant – wind. Blustery days are common. Sunny warm mornings may be followed by snowstorms in the afternoon. In fact, historical records show that July is the only month it hasn't snowed here. Average high temperatures rise from the mid-40s in March to the high 60s in May. Lows for these months average 26° and 48° F respectively.
Summer: While June is mostly dry, July and August are characterized by brief but heavy rain and thunderstorms on a nearly daily basis. Average rainfall is 2.1" in July and 2.8" in August. Average high temperatures are in the low 80s, but the record is 99° F in July. Nights are cool, with temperatures in the 40s. Rainfall doesn't linger on the surface – standing water evaporates quickly in the summer heat and drains rapidly into the cinders. The resulting dry conditions and frequent lightning storms create ideal conditions for forest fires.
Fall: Golden aspen leaves contrast with black lava and blue skies. Shadows lengthen and sunsets are extraordinary. This can be the most pleasant time of year at Sunset Crater Volcano. Days are usually sunny and warm, with light winds; nights are cold. Temperatures become colder, with highs in the 70s F in September and 50s in November. Lows average from the 20s to 40s. Precipitation is generally minimal.
Winter: Winters vary greatly from year to year. While expected daytime temperatures usually hover in the 40s, they can range from the 20s to the low 60s. Highs in the 70s are possible in January and February, but so are below-zero lows. The average low temperature is a chilly 6° F. Snow often covers Sunset Crater Volcano, as annual snowfall may reach 100".