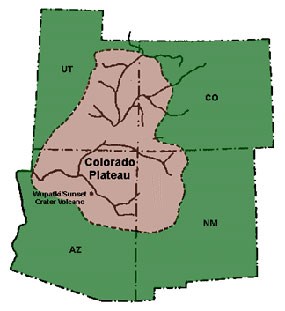 Striking geologic features, including stark black lava flows, wind-rippled cinder dunes, rusty red sandstones and vast expanses of multi-hued sedimentary layers dominate the landscapes of Sunset Crater Volcano and Wupatki national monuments. Both monuments are located in a large geographic region known as the Colorado Plateau. Various rock layers, called formations, document how this area has changed through geologic time.
The rock formations and regional geologic events affected both the physical and spiritual world of the people living in the area. Even today, from the quality of your water to where you build your house, geology affects your life in many ways.
Water, Water, Everywhere
The oldest rock layers exposed in the two monuments, the Kaibab and Moenkopi formations, are found at Wupatki. As dry as the sun-baked desert looks today, a closer look at the rocks reveals water-formed ripples, mud cracks, river gravels, and the imprints of thousands of shells from clams, mollusks and other marine life.

Kaibab Formation
The 240 million-year-old Kaibab Formation is made of limestone, a rock type formed on the sea floor. Prior to the uplift of the Colorado Plateau, this region was near sea level and was periodically covered by large inland seas. Like all oceans, the sea covering this area was teeming with billions of microscopic organisms, whose skeletal remains gently floated to the ocean floor after the creatures died. Over millions of years, the tiny skeletons amassed and, mixed with sand and clay, formed a layer of briny ooze hundreds of feet thick. Through time, this ooze compacted and hardened to form limestone.
Moenkopi Formation
Well-preserved ripple patterns, abundant mud cracks and fossilized burrow traces are seen in the layered sandstone and shale of this formation. This deep red, 200 million-year-old rock layer records a period of meandering rivers, tidal flats and other near shore deposits laid down on top of the Kaibab after the seas had retreated westward. A new type of animal was flourishing; dinosaurs, thriving on the moist climate's lush vegetation, were roaming the land. River Gravel Deposits As the Little Colorado River cut down through the sedimentary layers over the last two million years, it left behind gravel deposits that document its ancestral meandering. These deposits form flat-topped caps of grayish gravel over many of the red Moenkopi hills.