Wilderness Heritage: Homesteading with a Wilderness Ethic
WHO: Eva "Granny" Henderson, Homesteader in the Ponca Wilderness
WHAT: Gritty, hard-working homesteader who embodied the wilderness ethic in Buffalo River country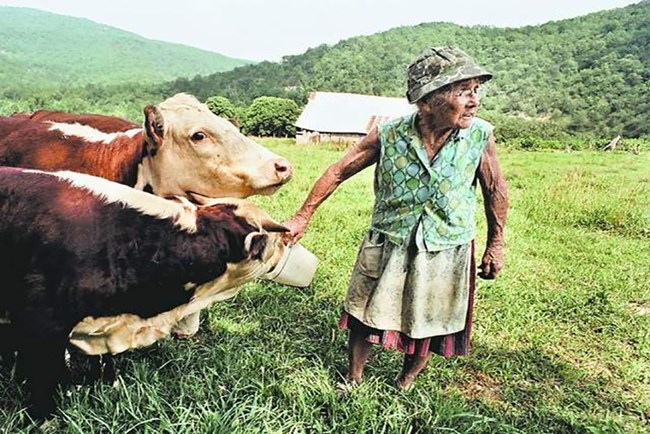 Buffalo National River in the Ozarks of northern Arkansas has nearly 36,000 acres of designated wilderness within its boundaries. Three wilderness areas -- the Upper Buffalo Wilderness, the Ponca Wilderness, and the Lower Buffalo Wilderness -- make up more than one-third of the land area of this park unit, and each wilderness area has its own unique story.

Hidden among the densely forested slopes and rugged canyons of the Ponca Wilderness are a number of historic homesteads built by early settlers of the Ozarks. One such homestead was built in the early 1900s by Eva and Frank Henderson. The Hendersons maintained agricultural fields and raised cattle at their little homestead, located about a quarter-mile from the banks of the Buffalo River. They gathered all of the water they used each day from the river or nearby springs, carrying it back to their cabin in large buckets. When Frank passed away in 1959, Eva -- known by most as "Granny" -- did not leave her beloved home.

Instead, she continued life as she had always known it, exhibit the work ethic, stewardship, and grit to thrive independently and sustain herself well into her eighties. Those who knew Granny describe her as a humble, hard-working woman who loved every day of her life in Buffalo River country. Today, visitors who venture to Granny Henderson's cabin in the Ponca Wilderness can experience the solitude, mental and physical challenge, and spiritual enrichment that Granny surely cherished there.
Last updated: September 28, 2017