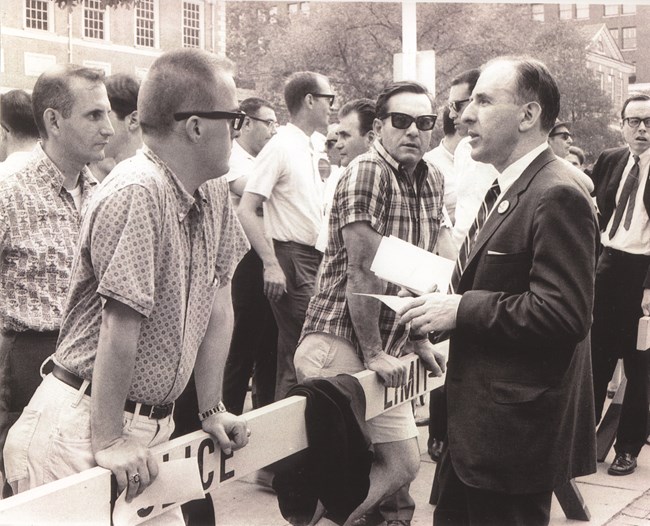 Philadelphia's Heritage of LGBTQ Activism
Philadelphia's history of protest and activism is exceptional. From American colonists declaring independence from Great Britain, to abolitionists fighting against slavery, to women's suffragists demanding voting rights, to civil rights activists calling for equality, the city has a deep history of social and political conflict and engagement.
In the future, the Philadelphia LGBTQ Heritage Initiative will offer more detailed histories. In the meantime, here is a brief overview.
Philadelphia's Lesbian, Gay, Bisexual, Transgender and Queer (LGBTQ) history follows this rich tradition of protest and action. A few highlights include:
The Reminder Days, held annually at Independence Hall on July, 4 1965 through 1969. Protesters gathered in front of Independence Hall to demand the public take notice of the discrimination that gay and lesbian American citizens endured. These protests helped move gay and lesbian civil rights into the public consciousness and helped provide structure and organization for the ongoing LGBTQ Civil Rights movement.


Dewey's Sit-in- April 25, 1965. After denial of service to "homosexuals and persons wearing non-conformist clothing", a large number of both black and white lesbian, trans, and gay persons executed a sit-in. Police arrested three people refusing to leave the diner and over the next week a leaflet campaign and a second sit-in was staged.


St. Mary's Church of Hamilton Village- When there were few meeting spaces outside of bars for lesbians to congregate, St. Mary's Church of Hamilton Village offered dances and a safe space for women to socialize.


Giovanni's Room- One of the oldest LGBT bookstores in the nation. Opened in the early 1970s, Giovanni's room became a space where people could learn both about gay and lesbian culture and learn about themselves. The bookstore provided a support network and during the AIDS epidemic provided information about how to care for people with the disease.
From sit-ins at Dewey's, drawing attention to non-gender conforming discrimination, to Sisters, a lesbian bar on Chancellor Street, to Giovanni's Room, one of the country's first LGBTQ bookstores, Philadelphia has a rich and diverse history.
Both the extraordinary events and daily lives of people in Philadelphia have helped shape modern LGBTQ history. Today, few places in Philadelphia are recognized or preserved for their LGBTQ history and contributions to American life and culture.