Explore the Underground Railroad
The National Park Service preserves and protects powerful places - the physical memory of our nation's history. Locations related to the Underground Railroad are part of the Network to Freedom program. The locations in this program include National Park units, as well as locations with a verifiable connection to the Underground Railroad. Visiting these places - virtually or in person - allows you to form your own connections to the story of the Underground Railroad in America.

The Network to Freedom currently contains over 650 locations nationwide with a verifiable connection to the Underground Railroad. These locations include sites, facilities and programs, most of which can be visited.The link to the interactive map below includes the locations of those open to the public and/or include public information about properties. Some locations are not plotted on the map for privacy and/or security reasons. You can also download the spreadsheet below the map link, showing all Network to Freedom listings that have public information available.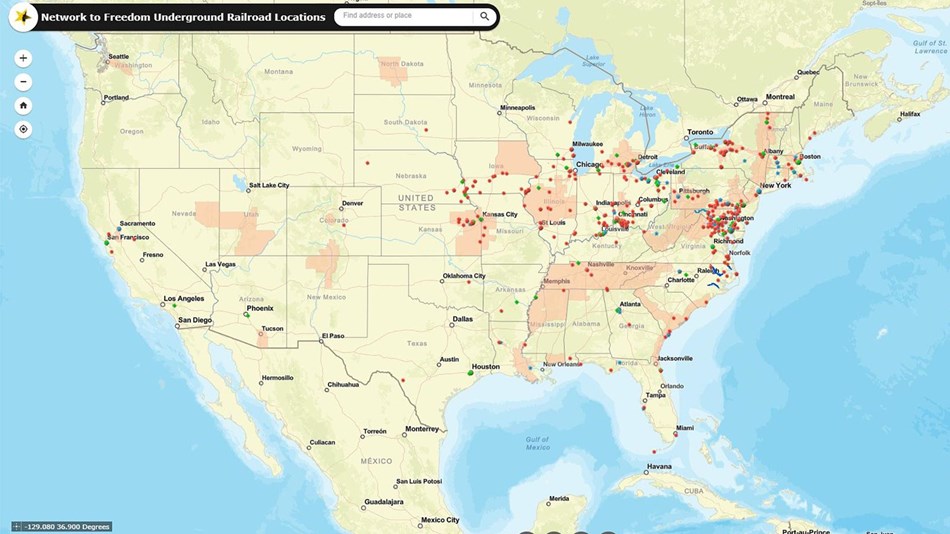 Explore the Network to Freedom
Explore all 650+ Network to Freedom listings by following the link to this map! Please note listings are only searchable by location.
Network to Freedom Listings
Use the table below to explore Network to Freedom Listings. Clicking the headings allows you to sort and filter the table. You might use the search bar at the top right hand corner of the table to search by listing name, state, town, etc. There are currently over 650 Network to Freedom listings, and new listings are added twice per calendar year.

Network to Freedom listings that are inactive or that have requested that specific location information remain private are not included in the data set that appears here. If you have questions about a particular listing, please email network_to_freedom@nps.gov.
| NAME | YEAR_EST | TYPE | STATE | ADDRESS1 | CITY | ZIP | COUNTY | URL | VISITOR_INFO_EMAIL | VISITOR_PHONE | OPEN | NPS_UNIT | PARK_NAME | | | | | | | | | | | | | | | | | | | | | | | | | | | | | | | | | | | | | | | | | | | | | | | | | | | | | | | | | | | | | | | | | | | | | | | | | | | | | | | | | | | | | | | | | | | | | | | | | | | | | | | | | | | | | | | | | | | | | | | | | | | | | | | | | | | | | | | | | | | | | | | | | | | | | | | | | | | | | | | | | | | | | | | | | | | | | | | | | | | | | | | | | | | | | | | | | | | | | | | | | | | | | | | | | | | | | | | | | | | | | | | | | | | | | | | | | | | | | | | | | | | | | | | | |
| --- | --- | --- | --- | --- | --- | --- | --- | --- | --- | --- | --- | --- | --- | --- | --- | --- | --- | --- | --- | --- | --- | --- | --- | --- | --- | --- | --- | --- | --- | --- | --- | --- | --- | --- | --- | --- | --- | --- | --- | --- | --- | --- | --- | --- | --- | --- | --- | --- | --- | --- | --- | --- | --- | --- | --- | --- | --- | --- | --- | --- | --- | --- | --- | --- | --- | --- | --- | --- | --- | --- | --- | --- | --- | --- | --- | --- | --- | --- | --- | --- | --- | --- | --- | --- | --- | --- | --- | --- | --- | --- | --- | --- | --- | --- | --- | --- | --- | --- | --- | --- | --- | --- | --- | --- | --- | --- | --- | --- | --- | --- | --- | --- | --- | --- | --- | --- | --- | --- | --- | --- | --- | --- | --- | --- | --- | --- | --- | --- | --- | --- | --- | --- | --- | --- | --- | --- | --- | --- | --- | --- | --- | --- | --- | --- | --- | --- | --- | --- | --- | --- | --- | --- | --- | --- | --- | --- | --- | --- | --- | --- | --- | --- | --- | --- | --- | --- | --- | --- | --- | --- | --- | --- | --- | --- | --- | --- | --- | --- | --- | --- | --- | --- | --- | --- | --- | --- | --- | --- | --- | --- | --- | --- | --- | --- | --- | --- | --- | --- | --- | --- | --- | --- | --- | --- | --- | --- | --- | --- | --- | --- | --- | --- | --- | --- | --- | --- | --- | --- | --- | --- | --- | --- | --- | --- | --- | --- | --- | --- | --- | --- | --- | --- | --- | --- | --- | --- | --- | --- | --- | --- | --- | --- | --- | --- | --- | --- | --- | --- | --- | --- | --- | --- | --- | --- | --- | --- | --- | --- | --- | --- | --- |
Download This Dataset
Last updated: March 3, 2021