Transportation Planning
Transportation planning is a comprehensive process for evaluating transportation needs in a collaborative and meaningful way. It allows for public involvement in setting long-term transportation visions and goals in order to prioritize projects for federal transportation funding.

In national parks, transportation systems connect parks with surrounding communities and provide visitors access to public lands. To enhance visitor experience and ensure positive impacts to surrounding communities and landscapes, these systems require coordinated planning.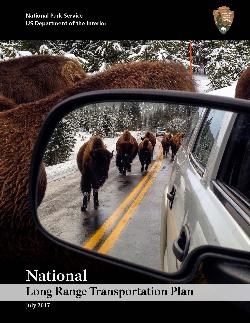 Long Range Transportation Plans
Long Range Transportation Plans (LRTPs):
Provide a planning framework to achieve transportation goals and objectives;
Coordinate transportation investments over a 20-plus year horizon;
Integrate the NPS mission with established transportation processes and frameworks;
Focus limited funding on the highest priority assets;
Involve high-level coordination with the Federal Highway Administration, state departments of transportation and Federal land management agencies, as well as input from state visitation and tourism organizations, to better understand regional and national demographic shifts and projected visitation trends; and
Are updated every five years;

Six steps for developing a NPS LRTP:
Step 1: Establish the LRTP vision, goals and objectives and associated performance measures and evaluation criteria.
Step 2: Perform a condition and performance assessment for the transportation system.
Step 3: Identify long-term needs.
Step 4: Develop funding and investment strategies to produce a long-range budget.
Step 5: Establish funding priorities to develop a financially constrained LRTP.
Step 6: Assess progress and monitor performance.


Six planning components, each of which has a specific role in NPS transportation planning and investment prioritization, should be addressed:
Visitor Experience: Visitor experience (the perceptions, feelings and reactions a person has about a visit to a protected area) is linked with transportation systems and visitors' ability to move from place to place, which is a directly result of transportation network and services.
Natural and Cultural Resource: Transportation systems and infrastructure have the potential to both degrade and protect natural and cultural resources. Incorporating natural and cultural resources into the LRTP process helps preserve those resources.
Climate Change: Climate change adaptation includes the adjustment of transportation systems in response to climatic effects to moderate harm or exploit benefits. Climate change mitigation (e.g., reduction of greenhouse gases emitted by transportation systems) directly impacts park natural resources and ecosystems and the visitor experience.
Sustainability and Livability: Transportation planning practices can increase the ease with which visitors connect to parks and interpret resources, reduce greenhouse gas emissions and create walkable, multimodal, efficient, accessible and well-designed transportation systems.
Asset Management: Asset management principles and practices help preserve, protect and sustain resource-intensive transportation systems and infrastructure.
Funding and Financial: Financial planning for sustainable funding limits LRTPs to what can realistically be accomplished with the expected funds and provides direction on what investments should be made and how those investments will be paid for.
Transportation Planning Articles
Last updated: August 18, 2022