Updating and Revising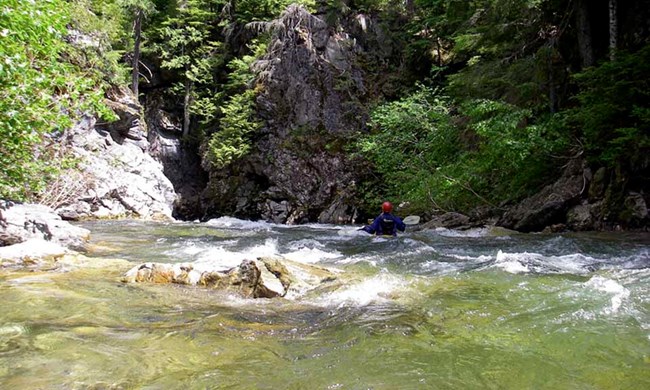 On May 17, 1982, the Director of NPS issued a memorandum to the Regional Directors informing them of the procedures for revising the NRI. (This occurred three months prior to NPS's distribution of the initial version of the NRI in August, 1982.) The Director instructed the regional offices to submit requests for changes to the NRI to the Rivers and Trails Division. Requests for deletions had to contain justification for the proposed deletion (e.g., construction of a dam, diversion project, or any additional development that diminished the "outstandingly remarkable" values of the river, etc.). Requests for additions had to contain the same information gathered for the original NRI.
No changes were considered effective until transmitted to Federal agency heads by the Assistant Secretary for Fish, Wildlife and Parks or other responsible departmental official in Washington. NPS envisioned an annual update of the NRI, but the Director decided that "a large number of change requests could lead to a somewhat more frequent revision," and updating the NRI had to be performed within the existing budgetary allocations.
Between 1982 and 1988, there were at least two groups of additions made to the original NRI using these procedures. Although data on the number of segments added in the first revision cannot be located (other than the Manumuskin River, NJ), the second revision added the Chester (MD), Merrimack (NH), and Connecticut (CT) rivers to the NRI with Director Mott's signature on January 26, 1988. Three years later, the NRI was republished and distributed with the additional revisions.
In 1990, NPS officials at the national and regional levels began to discuss an official update of the NRI. NPS national river policy staff created goals and objectives for the NRI update and decided the update should take place in two phases: 1) identification of segments on Federal lands found eligible for wild and scenic river designation through agency studies, and 2) identification of segments which the states believed contained ORVs.
The Federal lands update was initiated as part of the celebration of the 25th anniversary of the National Wild and Scenic Rivers Act, in 1993. The update added new information on existing listings and added new river segments found on lands managed by the Bureau of Land Management (BLM), NPS, and United States Forest Service (USFS). NPS hired six interns over the course of a year to compile segment information from natural resource agency management plans. With NPS Director Roger Kennedy's signature, 1,012 segments equaling 12,713 river miles were added, and 464 river segments were updated.

In 2016, the geospatial data for the Nationwide Rivers Inventory was updated with high resolution National Hydrography Data at a scale of 1:24,000. The updated data also includes additional attribute information and technical corrections to the data based on more recent studies and readily available information.

For more information also visit NRI Consultation Instructions,
Last updated: June 22, 2017