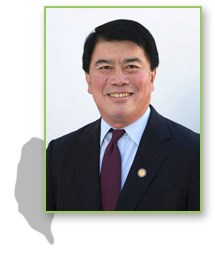 David Wu
Birth Date: April 8, 1955
Birth Place: Hsinchu, Taiwan
Parents:
Arrival in U.S.A.: 1961
Port of Entry: New York
Naturalization Date:
Homes in U.S.A.: Latham, NY / Southern California / Palo Alto, CA / Boston, MA / Washington D.C. / New Haven, CT / Portland, OR
Place of primary residence: Portland, Oregon
Contact:

Portland Office: 620 SW Main, Suite 606, Portland, OR 97205 (503) 326-2901 – Phone / (800) 422-4003 - Toll Free / (503) 326-5066 – Fax

Washington DC Office: 2338 Rayburn HOB, Washington, D.C. 20515 (202) 225-0855 – Phone / (202) 225-9497 - Fax
---
It would be wonderful to be a natural-born citizen, but it's good to be close to my immigrant roots. I try to pass on to my children that nothing is a given. Rights and responsibilities don't come naturally.
Biography
David Wu was born in Hsinchu, Republic of China (Taiwan) on April 8, 1955. His parents were from mainland China, but had found themselves stuck in Taiwan during the Chinese Civil War. David's father moved to Troy, New York to study around the time that David was born. In 1961, after waiting six years, David's mother was able to take David and his two sisters to Latham, New York in order to join her husband. The move to the United States was quite a change for the family, as they were the only Asian Americans in Latham.
The Wu family later moved to southern California where David attended public schools. David's parents believed it was important that their children not only adopt American culture, but also value their Chinese heritage. They taught their children about Chinese culture and insisted they speak Mandarin at home. As a result, David is still able to speak Mandarin today and has maintained ties with and visited his extended family in China.
As a young man, David attended Stanford University where he majored in Biology and Biochemistry. He graduated from Stanford with a Bachelor of Science degree in 1977 and immediately enrolled in the Harvard Medical School. He soon realized that his true passion was law and he withdrew from medical school. He graduated from Yale Law School in 1982.
In 1984, David moved to Portland, Oregon and, in 1988, co-founded the legal firm of Cohen & Wu. In 1998, David ran for Congress as the Democratic nominee in Oregon's 1st congressional district and won the seat formerly held by Elizabeth Furse, who is, like David, a naturalized U.S. citizen. David is currently serving his fifth term in Congress and serves on the Education and Labor Committee, the Science Committee and the Foreign Affairs Committee. In Addition, he is Chair of the Science and Technology Subcommittee on Technology and Innovation. Congressman David Wu has introduced legislation to decrease the cost of prescription drugs, and has sponsored legislation to provide tax incentives to encourage small business growth, bring more local control to schools in Oregon, to help bring down the cost of prescription drugs, and to provide free college tuition for Americans who volunteer for the National Guard and Army Reserve. He is the only Chinese American to have served in the U.S. House of Representatives, and is only the third Chinese American to have served in the U.S. Congress.
Sources