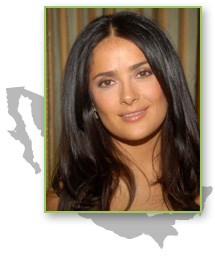 Salma Hayek Jiménez
Birth Date: September 2, 1966
Birth Place: Coatzacoalcos, Veracruz, Mexico
Parents: Sami Hayek & Diana Jiménez Hayek
Arrival in U.S.A.: 1991
Port of Entry: Los Angeles
Naturalization Date: pre-2004
Homes in U.S.A.: Grand Coteau, Louisiana; Houston, Texas; Los Angeles, CA
Place of primary residence: Hollywood Hills (Los Angeles), CA
Contact: C/O William Morris Agency, 151 El Camino Drive, Beverly Hills, CA 90212 USA
---
Biography
Early Life:
Salma Hayek was born in the Mexican port city of Coatzacoalcos, Veracruz on September 2, 1966 to entrepreneur Sami Hayek and former opera singer Diana Jiménez Hayek. Although Salma Hayek was born and raised in Mexico, her surname comes from her paternal grandfather, who moved to Mexico from Lebanon.
Thanks to the successes of her father's businesses, Salma and her brother were raised in a privileged household. At the age of 12, her devoutly Catholic parents sent Salma to the Academy of the Sacred Heart in Grand Coteau, Louisiana. However, Salma's mischievousness led to her expulsion from the school at the age of 14. Her parents then sent her to France for private French lessons, and later to live with her aunt in Houston, Texas. After graduating from high school at the age of 17, Salma enrolled at the Universidad Iberoamericana in Mexico City in order to study International Relations. As a student, Salma was kidnapped and held for ransom while on a date with her boyfriend. She left university shortly thereafter to pursue a career in acting, which had been her dream since seeing Willy Wonka and the Chocolate Factory as a child.
Acting and Life in the United States:
Salma's acting career had modest beginnings in neighborhood theatre houses. However, she was soon able to secure acting spots in commercials and, eventually, a small role in the Mexican telenovela, Nuevo Amanecer, Un. Shortly thereafter, Salma was offered the lead role in Teresa, another telenovela. Her role on Teresa led to widespread popularity in Mexico.
She moved to Hollywood in 1991 and began English lessons and acting lessons. She won some small roles in television, but it wasn't until 1993 that she secured her first film role, a small part in Mi Vida Loca. Salma came to the attention of Mexican American film director Robert Rodriguez in 1995, and he gave her the female lead role in the film Desperado. Around the same time, Salma starred in the Mexican film, El Callejón de los Milagros, a film that has won widespread praise and more awards than any Mexican film. In the years since, Salma has starred in many of Rodriguez's films, including the sequel to Desperado, Once Upon a Time in Mexico.
Salma is most well known for her role in the film Frida, which earned her an Academy Award nomination for best actress, making her the first Latin American actress to earn that nomination. Not only did Salma star in Frida, she was also the producer. Through her production company, Ventanarosa, Salma actively produces films and the Golden Globe winning TV sitcom, Ugly Betty. She is also an Emmy Award winning director. In addition to her work in the entertainment industry, Salma is a tireless advocate for the rights of illegal immigrants and the spokesperson for the Avon Foundation's Speak Out Against Domestic Violence program.
Sources