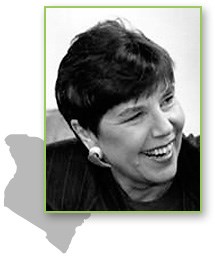 Elizabeth Furse
Birth Date: October 13, 1936
Birth Place: Nairobi, Kenya
Arrival in U.S.A.: 1958
Port of Entry: Los Angeles, CA
Naturalization Date: 1972
Homes in U.S.A.: Los Angeles, CA; Seattle, WA; Portland, OR; Helvetia, OR
Place of primary residence: Helvetia, OR
---
Biography
Early Life
Elizabeth Furse was born on October 13, 1936 in Nairobi, Kenya to a Canadian mother and an English father who owned a large farm near Nukuru, Kenya. After Britain declared war on Germany, on September 3, 1939, Elizabeth's father, who was a commissioned naval officer, was sent to Cape Town, South Africa, as were all British naval officers in the region. The family moved to South Africa and Elizabeth's mother, Barbara Furse, went to work for the admiralty and became involved in troop movement. When the war was over, the family moved to a farm in South Africa.
The Herenigde Nasionale Party (HNP) came to power in South Africa in 1948 and instituted the policy of apartheid, which, when translated, means "apart – hood." Under apartheid, people were classified into racial groups and separated from one another. The racist system extended rights unequally to different segments of the population. Whites enjoyed the most rights, while blacks, coloreds, Indians and others had fewer rights.
Elizabeth's mother, Barbara Furse, became involved in the anti-apartheid movement shortly after the election of the HNP. At the time, it was very risky for people to be involved and speak up against apartheid, as many people were being arrested. Barbara Furse retained her Canadian citizenship so that she couldn't be arrested. Elizabeth recalls that, "My mother was a human rights-oriented person, and had a real sense of justice that she instilled in her family. She had taught her children that, if you see something you don't like in your community, you need to get involved to change it. She protected those who worked for her. She was absolutely fearless and would go to the police station to vouch for her employees and make sure they got out of jail. The authorities could arrest somebody for anything, they didn't need a reason. My mother was fearless on the issue of human rights and justice. For me, that was the most important influence in my life."
At 15 years old, motivated by the sense of justice that her mother had instilled in her, Elizabeth became involved in the first large-scale Black Sash anti-apartheid demonstration in Cape Town. It was the first mixed (Black & Non-black) demonstration in South Africa. The government used a lot of violence against the demonstrators, but, Elizabeth says, "it was a great experience, because I lived through fear. Once you have lived through that, you can live through anything. I was scared of the authorities, but more afraid of my mother."
Elizabeth attended Rhodes University in South Africa, but then left for London to attend the university where her sister had already gone. "Most people I knew had gone to England and it wasn't so different or such a huge step,"she says. Her parents left South Africa for England shortly after she did and then later moved to Canada. Elizabeth lived in England for two years before she met and married a doctor who was an officer in the U.S. Air Force. In 1958, the newlyweds moved to Los Angeles, where they had two children, a girl and a boy.
Life in the United States
Elizabeth remembers that, when she moved to the United States, she was actually very shocked by the fact that there was so much racism, "I think people (abroad) thought the United States was a place of equality. I was amazed, especially in Los Angeles. The biggest shock to me was the existence of so much racism. I was white and, because I was raised in South Africa, where blacks had no rights whatsoever, I could recognize it, even though it wasn't the same or as extreme in the United States."
Elizabeth became involved with a women's self-help project in the Watts neighborhood of southern Los Angeles. She later became involved in the Cesar Chavez movement for farm workers, and helped the UFW with their attempts to unionize farm workers working in the grape fields. Looking back, she says that, "I had never been in contact with Latinos and Hispanics. It was very inspiring. I really admired Mr. Chavez. At the core, the issue of racism with Latinos was similar to African Americans. I think, in many ways, racism has its basis in one group wanting to be economically or socially higher than another group. I think you find that in all manifestations of racism, including the racism towards African Americans, even though it was not nearly as severe as South Africa. In many ways, perhaps, Hispanics are less identifiable, and the racism was not as open, as was the case with how the field workers suffered, most of whom were Hispanic."
She continued to feel strongly about apartheid, but, she says, "I came to the conclusion that the only way to bring a change in South Africa was the world-wide boycott. I didn't go back until the inauguration of Nelson Mandela. That (world-wide boycott) is what brought the South African Government to the table."
Elizabeth and her husband moved to Seattle, Washington in 1969. In Seattle, she became involved with Native American tribal governments. "It was so interesting to go from the Los Angeles experience to working with the tribes. There was no education in the United States that dealt with Native Americans. There was no education regarding that these (native tribes) are nations with sovereign lands,"she says. Elizabeth has, since that time, focused a lot of her attention on tribal issues. She "became involved with the Native American fishing rights struggle and co-founded Citizens for Indian Rights, a non-Indian support organization which did grass roots education on the law of treaties and the solemn obligations that flow from such treaties. This organization became the National Coalition to the Support Indian Treaties (NCSIT)." 1
Elizabeth became a citizen of the United States of America in 1972. She remembers that, before that time, she "felt more British than anything. I found it hard to totally embrace some of the things happening in America. I became a citizen so that I could vote, and so that I could support McCarthy, who, I believed, could have done something positive."
"In 1978, she moved to Oregon where she attended Northwestern School of Law for two years before leaving to direct the Restoration Project of Native American Program of Oregon Legal Services (NAPOLS). Oregon Tribes had been devastated by the Termination Era with 56 tribes and bands having their federal relationship terminated by Act of Congress in 1954. From 1980-86 Furse coordinated the successful passage of three Acts of Congress to restore the federal status of the Coquille Tribe (1982) Confederated Tribes of Grand Ronde (1983) and the Klamath Tribe (1986).
"In 1986, Elizabeth co-founded the Oregon Peace Institute, located in downtown Portland. OPI mission is to develop and disseminate conflict resolution curriculum for Oregon schools." 2
Elizabeth successfully ran as a candidate in 1992 to represent Oregon's 1st District in the United States Congress. "As an immigrant and running for congress, I talked about my story and people were interested. I talked about the fact that the best of America is that we're all immigrants, even if it was six generations ago. Unless you're a Native American, you're an immigrant. By dealing with this up front, I never had snide remarks or an opponent who tried to twist that. We talked a lot about the need for diversity and it turned into a positive, rather than a negative. America is, at its very best, an incorporation of different talents and backgrounds. I encourage immigrants to move beyond all that and serve their community. You look at Barack Obama and he's using that story as an additional reason. New Mexico Governor Bill Richardson uses that and says that this country can use all of that and it is an additional benefit,"She says.
Elizabeth represented Oregon's 1st District in the U.S. Congress from January 1993 until January 1999. "As a member of congress,"she says, "I made it a priority to attend every ceremony where people became citizens. It used to be a wonderful part of my job to be able to speak to immigrants who had become citizens. I wanted them to understand that they could also become a congressperson, because they (immigrants) bring an experience that is valuable and different. Anyone can represent their community. The only office that immigrants can't hold is the Presidency."
Elizabeth considers herself an American, but says that, "I identify myself as an American, not as British or South African, but I have the ability to see that this (America) is not everything. There's a tendency as Americans to see this as the best place in the world, but there are other good places too. I think America is rather pleased with itself, but given the history, especially the tribal history, one sees that it is not perfect. The peace movement has made me aware of the tremendous waste of money we spend on the war, and the importance of universal health care. There are other countries that have better health care."
Elizabeth Furse has never returned to Kenya, but has visited South Africa four times since her first trip back when Nelson Mandela was inaugurated as the South African President. She has two sisters who still live in South Africa, another two sisters who live in Canada and a fifth sister who lives in Australia. She says that, "I was fortunate to be raised in a family of strong women. There are always challenges for women, but I was always confident that I could set out and try things, even if I didn't always succeed. I was fortunate and think that I have had a lot of luck that has helped me. My mother was a very strong person and so I never thought that anything wasn't possible."
Elizabeth Furse is currently the Director of The Institute for Tribal Government, which she founded, in the Hatfield School of Government at Portland State University. "The Institute for Tribal Government serves elected tribal governments from across the nation and also provides training to local, state and federal government agencies and others who are interested in learning more about tribal governments, legal foundations, and tribal governmental authorities and duties." 3
Glossary
Apartheid
Racial segregation; specifically: a former policy of segregation and political and economic discrimination against non-European groups in the Republic of South Africa
Black Sash
An organization of white South African women who protested by non-violent means against racist Apartheid policies and administered advice offices for black South Africans.
---
1.
http://www.tribalgov.pdx.edu/bio_furse.php
2.
http://www.tribalgov.pdx.edu/bio_furse.php
3.
http://www.tribalgov.pdx.edu/index.php