National Natural Landmarks by state
Wisconsin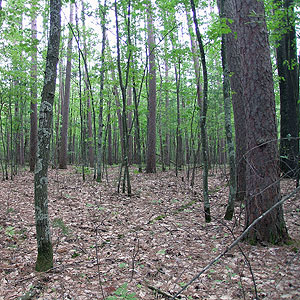 There are 18 National Natural Landmark sites located within the state of Wisconsin. Natural features represented include boreal, swamp and hardwood forests, bogs, and dune and swale communities. The southwest part of the state is known as the driftless area, having escaped the last glaciation. Baraboo Range, an exhumed mountain range in southeast Wisconsin boasts high plant community and bird species diversity. The sites in Wisconsin received NNL designation over two decades from 1967 to 1987. Sites range in size from 15 acres to over 51,200 acres and are owned by a variety of landowners including U.S. Forest Service, U.S. Fish and Wildlife Service, Wisconsin Department of Natural Resources, University of Wisconsin, tribal, The Nature Conservancy and private corporations and individuals.
Below is a map of sites in Wisconsin.
National Natural Landmark sites are located in the following counties: Ashland, Bayfield, Buffalo, Dane, Door, Fond du Lac, Forest, Grant, Green, Iowa, Kenosha, Manitowoc, Marquette, Oneida, Ozaukee, Sauk, Sawyer, and Vernon.
← Back to listing of all states and territories.
---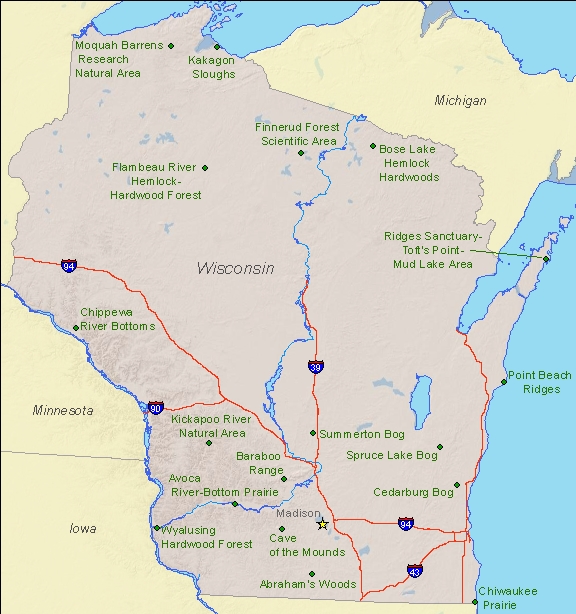 Please remember, National Natural Landmarks (NNLs) are not national parks. NNL status does not indicate public ownership, and many sites are not open for visitation.