National Natural Landmarks by state
Utah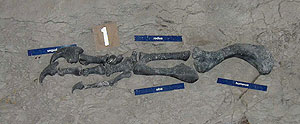 There are four National Natural Landmark sites located within the state of Utah. Natural features represented include excellent exposures of intrusive plugs or stocks with associated sills, dikes and laccoliths, the northernmost stand of tree yuccas in the U. S., and a dinosaur quarry that has provided more than 10,000 fossil bones representing more than 60 individual animals from at least seven different genera of the Jurassic Period. The four Utah NNLs were designated over the course of a dozen years from 1965 to 1977. Ranging in size from just a couple acres to over 31,000 acres these sites are owned by U.S. Forest Service and Bureau of Land Management.
Below is a map of sites in Utah.
National Natural Landmark sites are located in the following counties: Emery, Garfield, Salt Lake, and Washington.
← Back to listing of all states and territories.
---
Please remember, National Natural Landmarks (NNLs) are not national parks. NNL status does not indicate public ownership, and many sites are not open for visitation.