National Natural Landmarks by state
Texas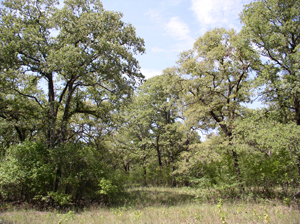 There are 20 National Natural Landmark sites located within the state of Texas. Natural features represented include the only significant segment of gulf coastal prairie remaining, providing habitat for the endangered Attwater's prairie chicken, a classic illustration of a batholith and of the exfoliation process, one of the best developed, least disturbed natural shortgrass climax communities remaining in the Great Plains biophysiographic province, and several highly decorated cave systems exhibiting a variety of rare speleothems. Nineteen of the sites were designated as NNLs between 1965 and 1983 with the most recent designation of Cave Without A Name occurring in 2009. Ezell's Cave is the smallest Texas NNL at just over 2 acres, whereas over 16,000 acres are designated at Palo Duro Canyon to capture the cross-sectional views of sedimentary rocks that represent four geological periods. Ownership of these sites is as diverse as the features represented and include U.S. Fish and Wildlife Service, state parks and private organizations and individuals.
Below is a map of sites in Texas.
National Natural Landmark sites are located in the following counties: Anderson, Armstrong, Bailey, Bandera, Blanco, Burnet, Cameron, Colorado, Comal, Ector, Edwards, Gillespie, Hays, Hidalgo, Kendall, Llano, Montague, Randall, Real, Somervell, Sutton, and Tarrant.
← Back to listing of all states and territories.
---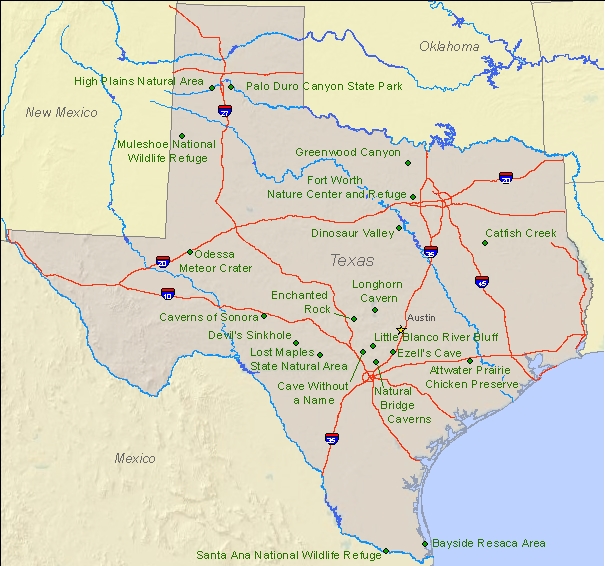 Please remember, National Natural Landmarks (NNLs) are not national parks. NNL status does not indicate public ownership, and many sites are not open for visitation.