National Natural Landmarks by state
New York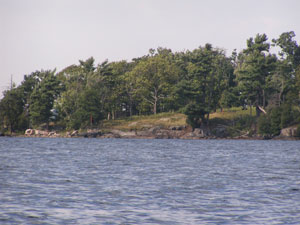 There are 28 sites designated as National Natural Landmarks located entirely or partially within the state of New York. Natural features represented include the best exposure of glacial meltwater potholes in the eastern U.S., one of 11 known meromictic lakes in the U.S., one of the best exposures of calcareous algae fossil reefs, and the largest known exposed fault system in the U.S. Bergen-Byron Swamp and Mianus River Gorge were the first two sites in New York to be designated as NNLs in 1964, and the newest site, Albany Pine Bush, was designated in 2014. The 28 sites range in size from 10 acres to over 3,000 acres and are owned by a variety of landowners including New York Department of Environmental Conservation, The Nature Conservancy, U.S. Fish and Wildlife Service, Cornell University, counties, municipalities, and other private conservation organizations and individuals.
Below is a map of sites in New York.
National Natural Landmark sites are located in the following counties: Albany, Allegany, Cattaraugus, Clinton, Dutchess, Genesee, Herkimer, Jefferson, Livingston, Monroe, Onondaga, Orleans, Rockland, Saratoga, Seneca, St. Lawrence, Suffolk, Tompkins, Ulster, Wayne, and Westchester.
← Back to listing of all states and territories.
---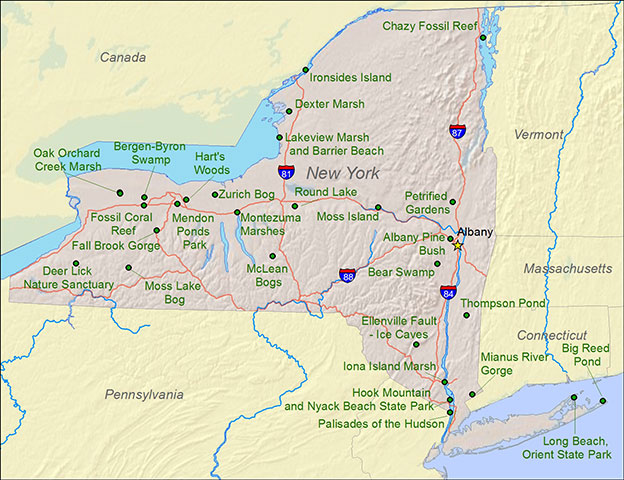 Please remember, National Natural Landmarks (NNLs) are not national parks. NNL status does not indicate public ownership, and many sites are not open for visitation.