National Natural Landmarks by state
Colorado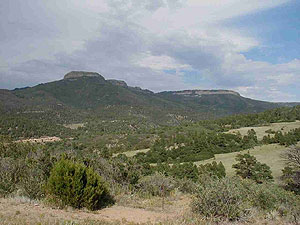 Raton Mesa
, a National Natural Landmark in Colorado.
There are 14 National Natural Landmark sites located entirely within the state of Colorado. An additional site, Sand Creek, while located primarily within Wyoming does extend into Colorado. Natural features represented include one of the best examples of Arctic tundra in the conterminous U.S., excellent examples of the titled and faulted sedimentary strata of the Colorado Front Range, and internationally known paleontological sites. Eleven of the CO sites were designated over the course of two decades from 1965 to 1984. Three more sites (Hanging Lake, Big Spring Creek and West Bijou Site) have since been designated in the past 5 years as well as the expansion of the Morrison Fossil Area to included several fossil sites in Golden, CO and an 80-fold increase in the size of Garden Park Fossil Area near Canon City. The CO sites range in size from 60 acres to the nearly 38,000-acre Spanish Peaks. Site ownership includes U.S. Forest Service, Bureau of Land Management, Bureau of Reclamation, National Park Service, state, municipal and private.
Below is a map of sites in Colorado.
National Natural Landmark sites are located in the following counties: Arapahoe, Clear Creek, Douglas, El Paso, Elbert, Fremont, Garfield, Hinsdale, Huerfano, Jefferson, Larimer, Las Animas, Park, and Saguache.
← Back to listing of all states and territories.
---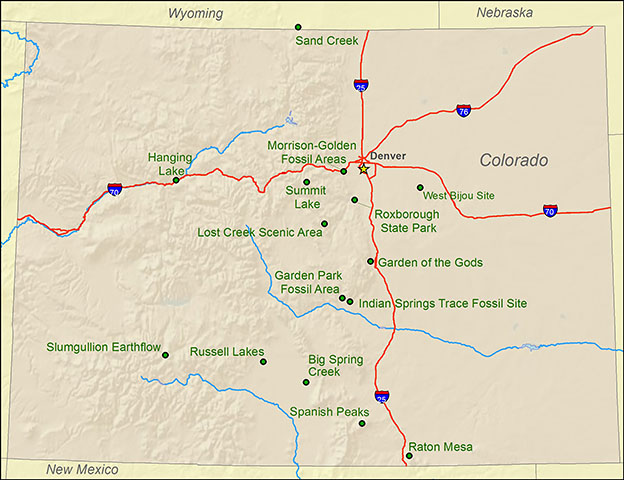 Please remember, National Natural Landmarks (NNLs) are not national parks. NNL status does not indicate public ownership, and many sites are not open for visitation.