National Natural Landmarks by state
California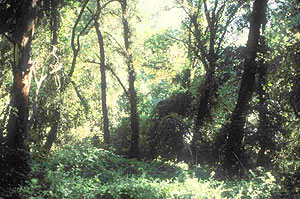 There are 36 National Natural Landmark sites located within the state of California. Natural features represented include major faults, the largest desert state park in the nation, and one of the largest and most diverse assemblages of extinct Ice Age plants and animals in the world. The first 34 sites received NNL designation over a two decade span from 1964 to 1987. Two decades later Irvine Ranch was designated in 2006 and the most recent addition to the Natural Landmarks Registry is Lake Shasta Caverns, receiving NNL status in 2012. Sites range in size from 2 acres to nearly 600,000 acres and are owned by a variety of landowners including U.S. Forest Service, U.S. Fish and Wildlife Service, Bureau of Land Management, National Park Service, U.S. Army Corps of Engineers, California State Parks, The Nature Conservancy, municipalities, and private individuals.
Below is a map of sites in California.
National Natural Landmark sites are located in the following counties: Amador, Contra Costa, El Dorado, Imperial, Inyo, Kern, Los Angeles, Marin, Mendocino, Mono, Monterey, Orange, Riverside, Sacramento, San Benito, San Bernardino, San Diego, San Luis Obispo, San Mateo, Santa Barbara, Shasta, Siskiyou, Solano, and Tulare.
← Back to listing of all states and territories.
---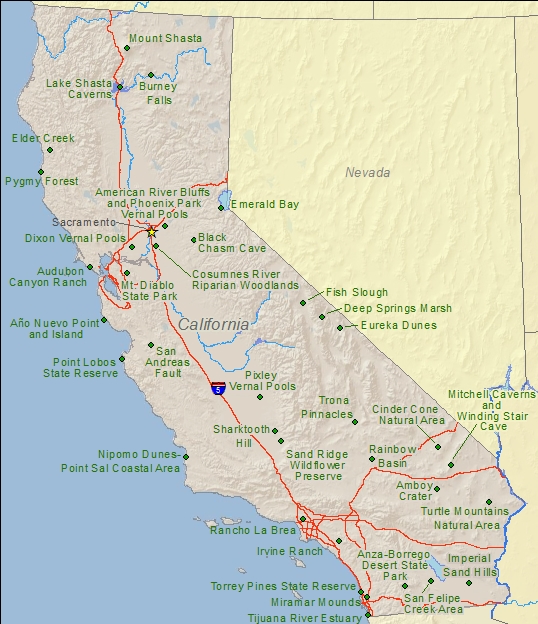 Please remember, National Natural Landmarks (NNLs) are not national parks. NNL status does not indicate public ownership, and many sites are not open for visitation.