Contact Us - National Capital Region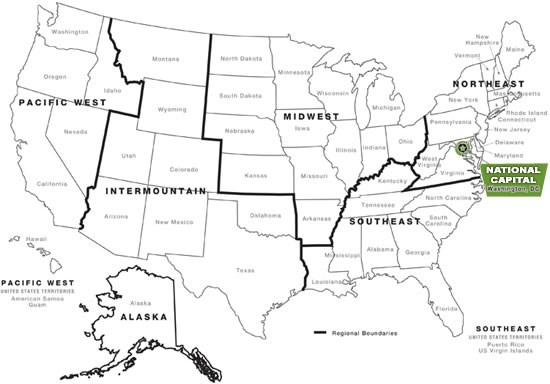 National Historic Landmarks Program - National Capital Regional Office
About

The National Capital Region's (NCR's) National Historic Landmarks (NHL) program administers the NHL Program in Washington, DC and 14 counties and three independent cities surrounding the nation's capital. The program recognize sites worthy of preservation as valuable illustrations of America's heritage. NHLs are located within and outside of national parks and belong to both public and private owners. The National Capital Region's NHL Program guides the nomination process for new or updated landmarks, reviews federal projects that may impact NHLs, monitors the condition of landmarks, and provides assistance to current stewards of NHL properties.
The region's NHLs include approximately 115 properties that range from well-known sites such as George Washington's Mount Vernon and the White House, to the site of a major 19th century labor strike (Baltimore & Ohio Martinsburg Shops) and Washington, DC's central hub of black education and activism in the late 19th and early 20th centuries (St. Luke's Episcopal Church). Read more articles about some of NCR's NHLs.

Please contact this office about properties in the District of Columbia, and in selected counties in Maryland (Allegany, Frederick, Montgomery, Prince George's, and Washington Counties), Virginia (Arlington, Fairfax, Loudoun, and Prince William Counties; and the Cities of Alexandria, Fairfax, and Falls Church), and West Virginia (Berkeley, Hampshire, Jefferson, Mineral, and Morgan Counties).
For NHLs in other counties and cities in Maryland, Virginia, and West Virginia, please contact the Northeast Regional Office.
Contact Information

Mailing Address:
1100 Ohio Drive, SW
Washington, DC 20242

Phone: (202) 619-7180

e-mail us
Last updated: March 21, 2019