Southeast and Caribbean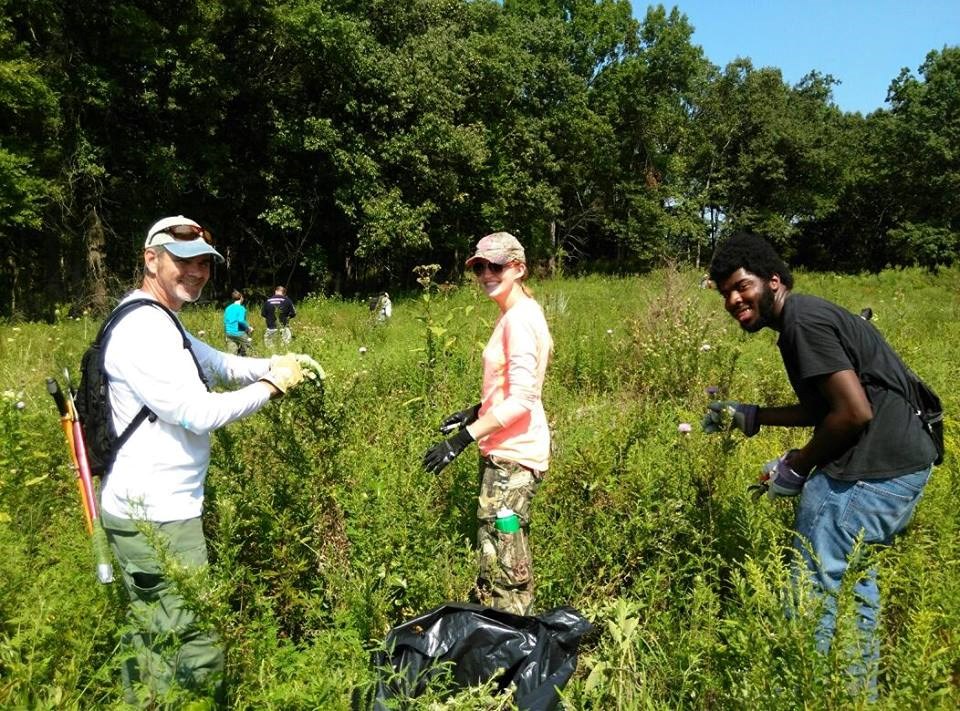 Collaboration in the Southeast and Caribbean
Work to manage invasive species is hardly ever done alone by a park. Here are some helpful organizations that work with parks to combat invasive threats.
Southeast Invasive Plant Management Team
The Southeast IPMT, founded December 2003, manages 20 parks that lie in seven states, from Abraham Lincoln's Birthplace National Historical Park in Kentucky to Ninety Six National Historic Site in South Carolina. Headquartered in Asheville, NC on the Blue Ridge Parkway, the Southeast IPMT is centrally located as a collaborative force to work among the 4 southeastern teams (Florida and Caribbean IPMT, Southeast Coast IPMT, and Gulf Coast IPMT). The group operates as a 'strike team' that is fully equipped and trained to handle invasive nuisances in units, and can consult with NPS authorities on using their Integrate Pest Management toolbox. The Southeast team prioritizes expertise and mobility, as they monitor, plan, and implement invasive plant management projects with safety in mind.

Southeast Coast Invasive Plant Management Team
The Southeast Coast IPMT serves 15 park units in North and South Carolina, Georgia, and Alabama. Network parks range from protected seashores and forested wilderness to urban recreational areas and preserved cultural landscapes. The Southeast Coast IPMT is stationed at Congaree National Park (CONG), which encompasses one of the last remnants of intact old growth bottomland forest. Approximately 80 percent of CONG is also designated wilderness which is uncommon in the southeastern U.S. The SEC IPMT was initiated as a pilot project in 2005, and by 2010 was permanently funded through CONG's base operating budget. Although funded differently than the majority of IPMTs, the SEC IPMT strives to achieve similar goals for invasive plant management.
Gulf Coast Invasive Plant Management Team
The Gulf Coast IPMT supports eight NPS units within the states of Louisiana, Mississippi, and Texas.

Florida and the Caribbean Invasive Plant Management Team
The Florida and Caribbean IPMT is co-located with the South Florida/Caribbean Inventory and Monitoring network in Palmetto Bay, Florida. It serves 15 national park units located throughout Florida and the Caribbean by expanding existing invasive plant control efforts including inventory and monitoring, control, education, restoration, and research. The team consists of a liaison, a data manager, and contract crews.
Every year, a steering committee meeting is held to decide which parks proposed projects get funding for the upcoming year. The ranking committee consists of representatives from Florida and Caribbean NPS units, the US Army Corps of Engineers, US Fish and Wildlife Service, and the State of Florida.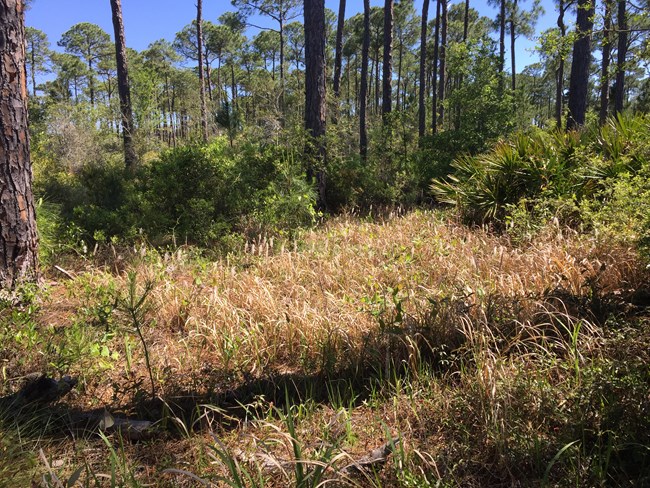 Targeted Plant Species Watchlist for the Southeast and the Caribbean
Giant reed (Arundo donax)
Yellow bluestem (Bothriochloa ischaemum)
Marvel grass (Dichanthium annulatum)
Water hyacinth (Eichhornia crassipes)
Cogon grass (Imperata cylindrica)
Glossy privet (Ligustrum lucidum)
Chinaberry, Cape lilac (Melia azedarach)
Common reed (Phragmites australis)
Kudzu (Pueraria montana)
Giant salvinia (Salvinia molesta)
Chinese tallow (Triadica sebifera)
Waxy leaved privets (Ligustrum japonicum)
Rosa multiflora (Rosa multiflora)
Garlic mustard (Alliaria petiolata)
Japanese stiltgrass (Microstegium vimineum)
Oriental bittersweet (Celastrus orbiculatus)
Wisteria vines (Wisteria)
Mimosa (Albizia julibrissin)
White flowered black mangrove (Lumnitzera racemosa)
Indian mulberry (Morinda citrifolia)
Nash vetivergrass (Chrysopogon zizanioides)
Mile-a-minute (Mikania micrantha)
Case Study of Invasive Species Projects in The Southeast and Caribbean: Biscayne National Park Treatments
The Florida and the Caribbean IPMT's main treatment focus for 2017 was in Biscayne National Park. While Biscayne staff have been focusing on treating the exotics on the spoil islands, the IPMT has been focusing on treating the mainland adjacent to these spoil islands. This combined effort will reduce the invasive plant infestations along the length of the western shore of Biscayne Bay.
Using data gathered from the South Florida and Caribbean Network's 2016 Biscayne National Park Corridors of Invasiveness project, the team was able to easily relocate infestations within the park to treat and retreat. Using that data, the efficacy of the initial treatments and growth of the untreated infestations were evident.
Toby Obenauer, crew leader of the Southeast IPMT, traveled to South Florida for a week to assist in treating the larger patches of Asian nakedwood (Colubrina asiatica), Brazilian peppertree, and punktree. He also aided in an additional survey of the larger islands within the park. The few invasives that were present on Soldier and Boca Chita Keys were eradicated and those islands are now considered to be free of invasive plants. Periodic surveys will need to be completed to confirm no new infestations emerge.
In September 2017, Hurricanes Irma and Maria impacted all of our parks. We will be monitoring the effects of these events for the next few years.
Additional Links and Resources
Contacts for Further Information
Nancy D Dagley
Southeast IPMT Liaison
828-407-5651
e-mail us
Brian Lockwood
Florida and the Caribbean IPMT Liaison
786-249-0073
e-mail us
Amorita Brackett
Southeast Coast IPMT Liasion
e-mail us
R. Dale McPherson
Gulf Coast IPMT Liaison
404-507-5795
e-mail us
Shea Bruscia
Florida and the Caribbean IPMT Data Manager
786-249-3005
e-mail us
Last updated: September 13, 2019