Wayside Grids
Wayside exhibit grids provide a digital framework for creating wayside exhibit production files. The grids are furnished in a variety of sizes and comply with the NPS Sign Program.
Grid Version Requirements:
Adobe InDesign CS2, CS3, or CS4 (MacOS or PC-Windows)
NPS approved OpenType® fonts NPS Rawlinson OT and Adobe Frutiger Std.
Acquiring NPS Approved Fonts
NPS staff can download NPS Rawlinson OT and Adobe Frutiger Std from the NPS Graphic Identity Program website.
Contractors and partners can obtain NPS Rawlinson OT through their local park contact.
Contractors and partners must acquire their own copies of Adobe Frutiger Std from Adobe Systems or from another font vendor.
Retrieve an OpenType Font Chart for the NPS typefaces.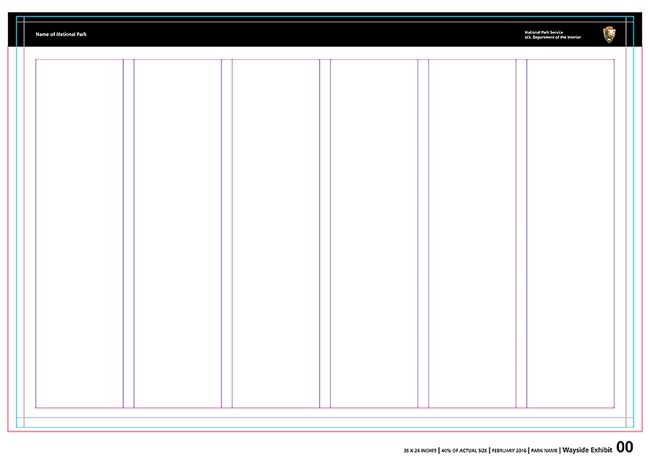 Wayside Exhibit Grids
Version 4 (2019)
The wayside grids have been updated with accessibility in mind. All paragraph styles now include text tags for easier creation of accessible PDFs. Italic type is no longer the default quotation style and the arrowhead includes alt text.

Additional changes include column adjustments, master page enhancements, and removal of the default UniGuide frame.

InDesign CC 2019 is required.
Last updated: February 10, 2020