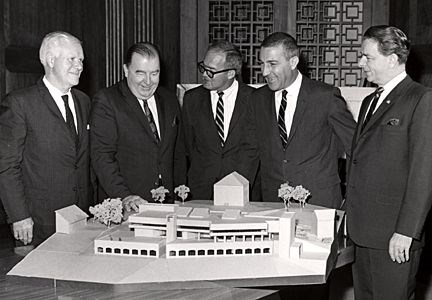 Harpers Ferry Center got its start in the early 1960s, with Mission 66 in full swing. At the time, the agency's media-related functions were dispersed across the country. The museum branch was split between Washington, D.C., and San Francisco. Regional publications officers prepared material in the field and sent the work to the Washington office for production. The audiovisual group was in its infancy, with all of three staffers. Curatorial and research functions were equally small.
William Everhart, chief of the Division of Interpretation and Visitor Services, and Publications Chief Vincent Gleason persuaded NPS Director George Hartzog to bring all media-related personnel together under one roof. The site chosen was Harpers Ferry, West Virginia, with the support of the state's congressional delegation. Sen. Jennings Randolph had been instrumental in establishing the original Harpers Ferry National Monument and in purchasing the old Storer College as the site for the new Mather Training Center. Sen. Robert Byrd was on the Senate Appropriations Committee. On March 2, 1970, Harpers Ferry Center opened for business.
People, parks, and interpretative media have changed in the ensuing years. The media produced in collaboration with our park colleagues has been recognized by government agencies, nonprofits, professional organizations, the business community, and--most important--the visiting public. But Harpers Ferry Center's original philosophy endures: By employing appropriate media, professionals can interpret the park story for the visiting public in a fashion that is immediate and understandable and a complement to the efforts in the park itself.