Science Internship, Volunteer, and Career Opportunities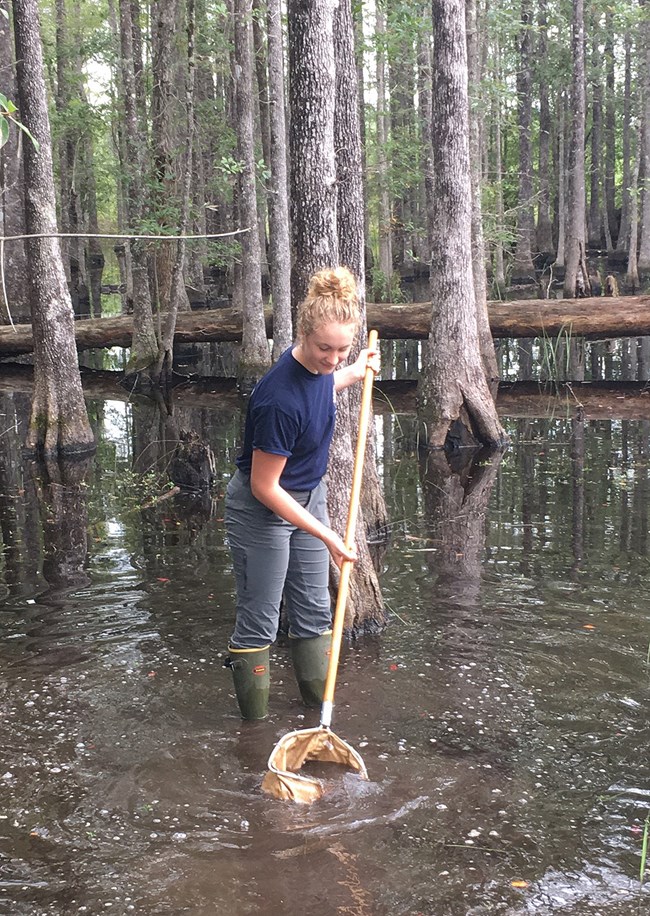 INTERNSHIPS AND VOLUNTEER OPPORTUNITIES – RESOURCE MANAGEMENT, INTERPRETATION, AND EDUCATION
Geoscientists-in-the-Parks
The Geoscientists-in-the-Parks (GIP) program provides college students and recent graduates, age 18 - 30 years old, or military veterans up to age 35, paid geoscience and other natural resource science internships with the National Park Service. Participants may assist with research, synthesis of scientific literature, natural resource mapping, GIS analysis, site evaluations, resource inventorying and monitoring, impact mitigation, developing brochures and informative media presentations, and educating park staff and park visitors about natural resource science topics. GIP positions can last from 3 months to one-year.
Website:
go.nps.gov/gip
Mosaics in Science
The Mosaics in Science Diversity Internship Program provides college students and recent graduates that are under-represented in natural resource science career fields with on-the-ground, science-based, work experience in the National Park Service. This multidisciplinary program provides opportunities to work on inventorying and monitoring, research, GIS and other technologies, and interpretation and education projects. The 11-week summer internship in a national park is followed by a 4-day career workshop held in Washington DC or Lakewood, CO.
Website:
go.nps.gov/mosaics
Future Park Leaders of Emerging Change
The Future Park Leaders of Emerging Change (FPL) provides opportunities for young people to work on novel park management issues resulting from one or more global drivers of change. FPL supports paid internships in which highly accomplished graduate and upper-level undergraduate students (current juniors and seniors) work for approximately 12 weeks on projects in research, interpretation, park operations, policy development, or other fields.
Website:
http://futureparkleaders.org/
Latino Heritage Internship Program
The Latino Heritage Internship Program (LHIP) is a component of an overarching service-wide strategy to address and correct the lack of Latino employment opportunities in the National Park Service. The LHIP provides college and graduate students and recent graduates 18 - 35 years old that are typically underrepresented in NPS career fields with meaningful, on-the-ground, work experience in the National Park Service. Disciplines covered include cultural resources, integrated resource management, interpretation, education, and outreach.
Website:
http://www.latinoheritageintern.com
Historically Black Colleges and Universities Internship
The Historically Black Colleges and Universities Internship Program (HBCUI) is designed to link program participants to NPS sites with a focus on African-American history and culture. The program is also designed to instill in participants enhanced understanding and appreciation of the important contributions of African-Americans in the development and progress of the United States, while gaining exposure to the gamut of career opportunities in the NPS related to public land management.
Website:
http://hbcui.gyfoundation.org/
Volunteer in Parks
There are a wide range of volunteer positions available for U.S. citizens with specific expertise. Volunteers may receive reimbursement for expenses such as food, mileage, gas, and training. Parks may provide housing. Often a minimum of 8 weeks work is required.
Website:
https://www.nps.gov/getinvolved/volunteer.htm
International Volunteers in Parks
The program is for non-U.S. citizens who are interested in volunteering for a national park. Positions are open for college students, persons who work for another country's park agency, or have a background in environmental or cultural related fields. NPS selects candidates who meet visa and immigration requirements, have the needed educational and professional background, and have the best potential to share their experiences with colleagues and scholars when they return to their home countries.
Website: https

://www.nps.gov/subjects/internationalcooperation/ivip.htm
Other National Park Service internship opportunities are available at:
https://www.nps.gov/subjects/youthprograms/jobs-and-internships.htm
RESEARCH OPPORTUNITIES
NPS Research Permit and Reporting System
Online system that manages the research application and reporting process for the National Park Service. Applications for NPS Research permits are found below.
Website:

https://irma.nps.gov/rprs/
Research Learning Centers
Research Learning Centers (RLC) are public/private partnerships created to facilitate research efforts and provide educational opportunities. RLCs involve a wide range of people and organizations including researchers, universities, educators, and community groups. Since 2001, RLCs have been helping researchers work in national parks and integrating research into the visitor experience, park resource management, and educational outreach programs. The 18 RLCs collaborate with universities, K–12 schools, professional societies, and diverse research and education groups.
Website:

https://www.nps.gov/rlc/index.htm
Cooperative Ecosystem Study Units
Cooperative Ecosystem Study Units (CESU) are a national consortium of federal agencies, tribes, academic and research institutions, state and local governments, nongovernmental conservation organizations, and other partners that was established to provide research, technical assistance, and education for resource and environmental managers. Natural, cultural, and social sciences are included. There are currently 17 CESUs across the United States.
Website:

http://www.cesu.psu.edu/
PATHWAYS PROGRAM
The National Park Service and other federal agencies hire students, recent graduates, and those with advanced degrees through the federal Pathways Program (

https://www.usajobs.gov/Help/working-in-government/unique-hiring-paths/students/

). Upon successful completion of the Pathways Program, agencies may convert the participant to a competitive service position.
There are three components to the Pathways Program:
Internship Program

– Paid internships that are available for current high school to graduate students. Provides paid opportunities to work in a federal agency and explore federal careers while completing an education.
Recent Graduate Program

– Career development program that is open to students who have graduated or obtained certificates from a qualifying educational institution or program within the last 2 years (time period is extended to 6 years for veterans).
Presidential Management Fellows Program

(

https://www.pmf.gov/

)– Open to current graduate students and recent graduates with an advanced degree that have demonstrated an interest in, and commitment to, leadership in the federal government. Two year paid internship includes formal training and rotational assignments. The application period for PMF is typically in October of each year.
PAID POSITIONS—SEASONAL, TEMPORARY, AND PERMANENT POSITIONS
The Office of Personnel Management (OPM) is the federal office for federal hiring. Each agency's hiring practices may vary. If you need additional information about a position in a particular federal agency, call a personnel specialist in the agency, region, park, or office where you plan to apply.
All government vacancy announcements are posted on USAJOBS at:

http://www.usajobs.gov/
Federal careers information:

https://www.usajobs.gov/Help/working-in-government/unique-hiring-paths/students/federal-occupations-by-college-major/
Federal pay and leave information: https://www.opm.g

ov/policy-data-oversight/pay-leave/
Federal job qualification standards:

http://www.opm.gov/qualifications/sec-iii/a/num-ndx.htm
Workforce Recruitment Program for persons with disabilities:

https://wrp.gov/AboutPre.do
Veteran's website: https://www.fedshi

revets.gov/
OTHER HELPFUL INFORMATION
Federal job application requirements vary for each position

. Be sure to read each job announcement carefully.
Many federal position announcements are open to "all sources," which means that you do not have to be a federal employee to apply for the position.
You must be a U.S. citizen to apply for most U.S. government jobs.
Merit promotion only announcements are open only to current federal employees and those with federal status.
Many positions are open to those with special hiring authorities such as persons with Veterans Preference, Pathways, Public Land Corps Non-Competitive hiring eligibility (PLC), Direct Hire Authority (DHA), Schedule A, etc.
Most seasonal jobs are advertised in the fall and early winter for the following spring or summer.
Opportunities within the National Park Service may be sponsored in whole or in part by a partner organization, which may have job requirements specific to their organization. For these positions you would be considered a "partner" or "contractor". Opportunities may or may not include park housing. If housing is included it may be in a shared, bunk house, or dorm-type setting. Parks may also have RV sites available for temporary (seasonal) positions.
TIPS FOR APPLYING TO A FEDERAL JOB
Conduct Research
Decide which parks you would like to work in and make a prioritized list.
Familiarize yourself with the NPS at:


http://www.nps.gov/aboutus/
All national park units are listed at:


http://www.nps.gov/findapark/index.htm
Find out why the park was established.
Decide what type of job(s) you are interested in pursuing. While duties vary by park, the following is a rule of thumb regarding management responsibilities in park divisions:
Resource Management

manages natural, and oftentimes cultural resources, facilitates research and resource management activities in the park.
Interpretation

manages education and outreach activities.
Maintenance

manages park infrastructure.
Law Enforcement

manages all law enforcement, including environmental violations in parks.
Contact the Park
Visit, call, and/or write to the appropriate person in the park. A personal visit shows the most interest, however a call may create a strong connection. Writing is more distant but demonstrates your writing skills.
Go to:

https://www.nps.gov/findapark/index.htm

, search for a particular park and find the park's contact information at the bottom of the webpage. Ask for the name, email address, and phone number of the person you want to reach (e.g., the park's Chief of Resource Management).
During your conversation with the park:
Ask if there are seasonal, internship, or Pathways opportunities in the park.
If applicable, let them know that you are interested in a seasonal or part-time position through the Pathways Program, and would like to talk about this.
Let the person know whether you are a student and if so, if you will be continuing school after the summer.
Emphasize your interest in working for the National Park Service/park.
Briefly tell them what interests you about their park.
Tell them about the variety of courses you have taken, including geology, biology, ecology, hydrology, GIS, public speaking, etc.
Describe your level of interest in specific projects, whether you have gotten good grades, and note your unique qualifications and ability to work independently or in a team environment.
Let them know if you are willing to work any job in the park to get your foot in the door.
Submit Your Application Before the Due Date
Job announcements have an application deadline. The application period may be open for 1 to 2 weeks and closes at the end of the work day in a certain time zone (e.g. EDT). Submit your application before the deadline. It will NOT be accepted once the announcement closes!
IMPROVING YOUR CHANCES OF GETTING HIRED
Get the Degree(s)
A college or advanced degree will likely increase your chances of getting a professional job.
Are you considering different degree options? Look at what the NPS is doing in resource management and interpretation /education. For example, there is currently a growing emphasis on technical skills (such as GIS), inventory and monitoring, restoration, and landscape scale ecosystem management.
Multiple degrees increase the range of marketable skills that you have. Depending on the position that you are seeking, this may increase your ability to get the job. Dual degrees such geology / biology, geology / communications, or geology / computer science or GIS, will likely qualify you for a broader range of NPS positions.
Get the Experience
The importance of relevant on-the-job experience cannot be over emphasized. Experience in your field of expertise and work with the general public, various land-managing agencies, companies, and organizations is recommended. If you do not have the necessary experience, consider volunteering or an internship for an agency, company, or organization. Volunteering is an excellent way to network and gain on-the-ground experience. Include your volunteer work and internships on your resume. These indicate you are willing to go above and beyond expectations.
Be Flexible on the Job Title and Location
Read the OPM job standards (see ht

tp://www.opm.gov

). Check the announcements for common NPS positions. Your ideal job may have a different title than you would expect such as

Physical Scientist

,

Natural Resource Specialist

,

Environmental Protection Specialist

,

GIS Specialist

, or

Ecologist

. Be aware, the title

Park Ranger

covers two different kinds of jobs — interpreters (park guides and education specialists) or protection specialists (law enforcement). While these are usually separate positions, sometimes they are combined in to one position.

Consider applying for positions that are in an agency, discipline, and/or location that may not be your first choice

. Once you have your first federal job and work experience you can apply for positions in your chosen career field and location.
Resume/CV
For paid positions, describe each position in one or more paragraphs. Unlike resumes for private industry, federal job resumes are much longer and include details that substantiate your experience.
Adequately address all of your experience related to the duties listed in the job announcement. Many hiring officials prefer that your resume be organized by skills required for the job and by jobs you have held.
Focus on the Application
When filling out the online occupational questionnaire consider all of your experience—volunteer, informal, and paid work experience. You are asked to rate your skills and abilities. Be honest and don't underestimate yourself. If you do not rate high on the questionnaire, your application will not be forwarded to the selecting official, but your ratings must also be supported by information in your resume or the score may be changed by an HR Specialist.
Don't limit your list of skills to only academic or on-the-job skills. The NPS often needs people with many skills, and experiences including: operating 4-wheel drive vehicles, ATVs, or boats; mountain biking; horseback riding; backpacking; skiing; snowshoeing; swimming; first aid, CPR, SCUBA, EMT, or wild land fire fighting (Red Card certification); expertise in GIS and GPS; teaching or presenting information to all levels of the general public, including experience communicating scientific information to non-scientists, managers, and technical experts, etc.
List job-related skills on your application (e.g., oral/written foreign language skills, expertise using computer software/hardware, tools, machinery); current job related certifications and licenses; and job related honors, awards, and special accomplishments (e.g., publications, memberships in professional or honor societies, leadership activities, public speaking, and performance awards).
Include exact dates of your previous employment, instead of simply stating the month and year. If you are selected for the job this will help the federal agency give you credit for all of the time that you worked and could bump you in to a higher pay grade or step.
Be Persistent in Your Job Search
Apply for all of the positions that you qualify for and are interested in pursuing. Some positions have thousands of applicants, while others only have a few.
QUICK APPLICATION TIPS
RESUME
Customize your resume
Choose an easy to read font and size
Use spell check
Be honest
Add a professional summary
Focus on accomplishments and skills
Put your work history in chronological order (most recent job first) and include exact start and end dates.
Include current contact information
Make sure potential employers can contact your references
COVER LETTER
Customize your cover letter for each position and focus on what you can offer
Be creative and show your personality
Keep it short, this is not a summary of your resume
Avoid using "My name is _____, and I am applying for the position…"
Avoid being witty or humorous
Do not use awkward phrasing
Use a business letter format and tone
Use professional salutations such as Mr., Ms., and Mrs.
Highlight your strengths
Send your letter as a PDF attachment
Check your grammar and use spell check
INTERVIEW
Research the agency/company beforehand




Prepare questions for the interviewer about the position and agency/company




Practice and prepare for the interview, don't just "wing it"




Sleep well the night before




Dress appropriately (business casual or business formal)




Arrive early




Be aware of your body language and posture




Listen carefully and do not interrupt the interviewer




Wait for a job offer before discussing salary and benefits




Send a personal thank you note to the interviewer within 24 hours of the interview



Find more information on the Federal Science Careers website: https://go.nps.gov/scienceo

pportunities



Last updated: December 13, 2019