Frequently Asked Questions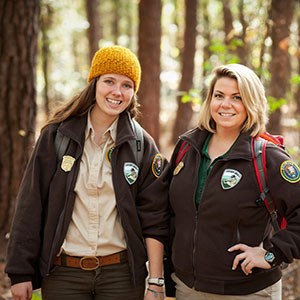 What type of experience does the Geoscientists-in-the-Parks (GIP) program provide?
Take a look at past projects and participants
---
What should I expect from the GIP program?
GIP program participants:
work for 3-12 months on a challenging, worthwhile project in a unique park setting,
experience stimulating work and a wide variety of geoscience and other natural resource science projects,
work either independently or closely with a mentor,
spend a large portion of your time outside, especially if the project is field-based,
work directly with park visitors, especially if the project is an education or interpretation position,
bring your own field gear (especially broken-in field boots!), unless noted otherwise in the position description,
receive park provided housing, or a housing allowance (depending on availability),
receive a stipend of $3,600 or more,
spend time engaged in one of the most unique, career-enhancing experiences of your life!
---
How do I find out which GIP positions are available this year?
All current GIP positions are advertised on our partner's website.
---
Who is eligible for GIP positions?
GIP positions are focused on students, and recent graduates who are United States citizens or permanent legal residents and possess a valid driver's license. Persons applying for GIP positions must be between 18- 35 years old. A limited number of Guest Scientist positions are available each year that accept professionals and retirees that are older than 35 years.
Non-US citizens must apply through the NPS International Volunteers-in-Parks Program (IVIP) at: https://www.nps.gov/subjects/internationalcooperation/ivip.htm
---
How do I apply for a GIP position?
All application information for current GIP positions is posted on our partner's website.
---
When should I apply? When do the projects begin?
The application process varies with each partner. Spring and summer positions are typically advertised from December 1 - February 1, and fall and winter positions from May 1 July 1. For more information see the program calendars.
---
Application tips…
If you are interested in applying for a GIP position, carefully review the partner's website before applying. Be sure to address specific questions you may have before accepting a GIP position.
Questions regarding the application process should be directed to the partner organization administering the application system (GSA).
Questions regarding the individual projects, specific duties, and other arrangements for each position should be directed to the host park.
Questions regarding the NPS Geoscientists-in-the-Parks Program should be direct to Lisa Norby, GIP Program Manager, e-mail us.
Make sure to submit all required documents by the application deadline or your application will not be sent to the park for review!
Last updated: December 16, 2016