Between 1977 &1978 a park brochure prototype was tested in the
Harpers Ferry National Historical Park
(HAFE). The results from visitors were unanimous...they LOVED the brochures making Harpers Ferry National Historical Park the first park in the National Park Service System to have an official park brochure. This publication contains the park map, points of interest, and a brief history of the park.  The map for Harpers Ferry National Historical Park (HAFE) was redone a few years ago to accurately reflect the relocation of the visitor center, as well as highlight the main visiting area of the park and the shuttle system. Even with the updated map options for visitors to learn about the park were needed. The park's website and social media filled this void, but not for those physically at the park.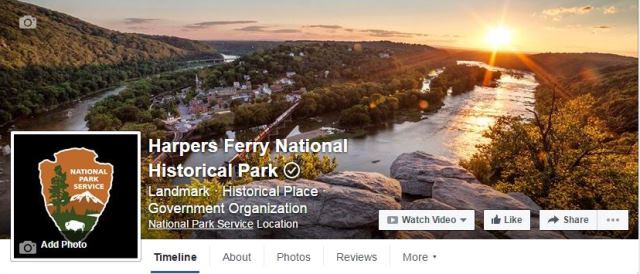 Overtime, the park and the
media service center
(HFC) cartographers met to discuss how they could turn a static map into something more interactive. It was a project that both the park and the design center were eager to undertake. After many meetings with the park to discuss the design and themes of the map a simple question emerged...What do we want to show our visitors? The park decided they wanted to answer the three most common visitor questions: "I only have two hours, what I can see here?" "What is there to see?" "What can I do with kids?" In addition to these questions the park wanted have the ability to highlight the two types of exhibits in the park modern - those explaining what John Brown's Raid was and some aspects of the town during the Civil War and living history - what life was like back in the time of John Brown's Raid and during the Civil War. 
Early in 2016, a graphics specialist volunteered in the HFC publications department.  This specialist developed a new mobile compatible interactive map that would enable visitors to choose among three different park experiences in the park: 
Ranger Picks - highlighting areas rangers discuss on their guided tours,

Best for Kids - a visitor experience the whole family can enjoy, 

History Exhibits - a look at life in Harpers Ferry during the time of John Brown's raid.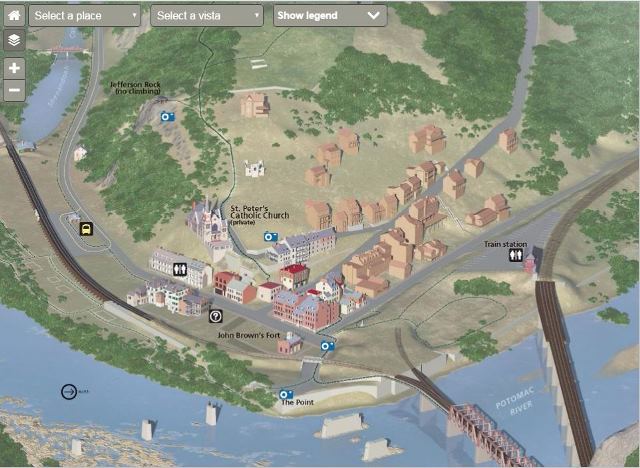 This map is still in a testing phase with visitors, but we would love your feedback and continued ideas.  As we we begin our next 100 years as a service we want our products to meet the ever changing needs of our visitors.