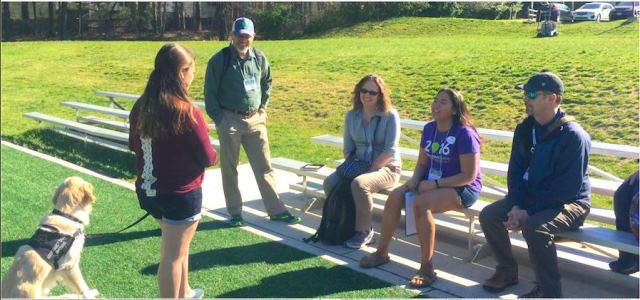 Barrie students interpret their school "national park" with experienced National Park Service Rangers during a morning event as a part of the National Learning Summit.
Recently we explored what it would mean for school kids to make their school into a national park. What if students had to create the stories that interpret the uniqueness of their school? What if students had to give interpretive tours, where would they take visitors? How could teams of students and real-life-rangers collect information on the most important sites in a school park? How could students learn to be rangers? 
These were all questions we asked in late Spring when creating this unique event as a part of the
National Learning Summit: Learning from the Outside In
, hosted by the National Park Service and National Geographic. This 3-hour morning event took place on the Barrie School campus with 13 students from the Barrie School, ages 11-17, and 22 National Park Rangers from around the country. It was co-led by the Barrie head, Charlie Abelmann, Barrie Director of Technology and Innovation, Vann Lassiter, and National Park Service Centennial Partnerships Specialist, soon to be National Every Kid in a Park Coordinator, Estee Rivera. 

Inter-generational teams of students and park rangers explore the special places on the Barrie campus for interpretation, making use of an iPad to record those stories with video and images.
Teams of students and park rangers were asked to imagine-- what if the 45 acres of the Barrie School campus were to become a National Park? Their mission was to go out into the "Barrie Park" and find the unique stories and document them. The teams used an iPad app called
Goose Chase
. Usually used for "scavenger hunts," our teams instead used this app for "place-based" in-the-moment capturing of stories, pictures, and video that could be used for a ranger tour of their some-day-national-park. As the teams were wandering the campus sharing stories, everyone could see each other's media. 
When the ranger-tours finished, the teams gather back together to reflect on their experiences. While we expected to hear people's appreciation for using mobile technology "in the wild," what we didn't expect was how much this inter-generational learning experience truly represented the Learning Summit's theme: learning from the outside in. Park Rangers commented on how much these kid-rangers taught them, not just about this school national park, but about what kids today care about. What the kids shared was that they really enjoyed learning about national parks by thinking about making them. However, what one 11 year-old shared struck a chord with many who were there that day. She said, "[The Barrie School] is a really good place to be. This being a park ranger made me figure it out." 
Yes, the mobile 
technologies were important in that learning, but it was the 
inter-generational experience with that digital tool that made all the 
difference.