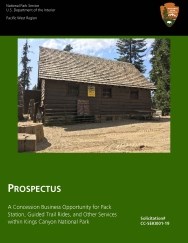 Solicitation for the award of a Concession Contract for Pack Station, Guided Trail Rides and Other Services at Kings Canyon National Park
The National Park Service (NPS) has issued a prospectus soliciting proposals in response to a business opportunity for pack station, guided trail rides and other services at Kings Canyon National Park. The Director has determined the current concessioner is a preferred offeror for the draft contract.
Any proposal must be received by 4:00 p.m. (PT) August 15, 2018. Please submit proposals to:
National Park Service
Pacific West Region
Attn: Chief of Concessions
333 Bush Street, Suite 500
San Francisco, CA 94104
To receive amendments to this prospectus, please notify Chris Fryday. The NPS will email any additional information specific to the prospectus to interested parties who have been placed on the contact list.