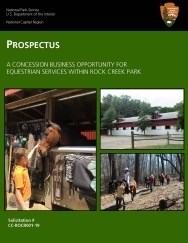 Solicitation for the award of a Concession Contract for Equestrian Services at Rock Creek Park
The National Park Service (NPS) issues a prospectus soliciting proposals for the award of a concession contract to provide equestrian services including horseback riding lessons, private horse boarding, horse rental for guided trail rides, and therapeutic riding in Rock Creek Park.
The prospectus explains the business opportunity and the terms and conditions under which the NPS will award the concession contract. The NPS has determined that the existing concessioner is not a preferred offeror for the draft contract.
Any proposal must be received by 4:00 p.m. (ET) by Friday, September 11, 2018. Please submit proposals to:
Chief of Concessions
National Capital Region
National Park Service
1100 Ohio Drive
Washington, DC 20242
Site Visit
NPS will host a site visit for parties interested in bidding on this opportunity on June 27, 2018. The site visit will provide an overview of the concession operation, along with a tour of the concession facilities. Attendance requires a mandatory RSVP to receive the specific information on when and where to meet for the site visit. There will be a limit of three people per interested party. Anyone desiring to attend the site visit must email June Devisfruto, no later than June 25 at 4:00 pm (ET). All RSVP emails must include your name, email address, phone number, and the name of your organization or interested party being represented.
Questions and Amendments
Questions related to this prospectus must be emailed by July 11, 2018 to Chief of Concessions.
To receive amendments to this prospectus, please provide Chief of Concessions, National Capital Region, (202) 619-7072 with:
Name
Email address
Phone number
The NPS will email any additional information specific to the prospectus to individuals who have been placed on the contact list. The contact list already includes the existing concessioner.