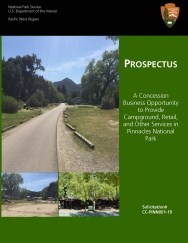 Solicitation for proposals for a new Concession Contract to provide campground, retail, and other services within Pinnacles National Park
The National Park Service (NPS) issues a prospectus under the terms described in the prospectus. The term of the new concession contract will be for 10 years.
Any proposal must be received by October 25, 2018, no later than 4:00 p.m. (PT). Please submit proposals to:
National Park Service
Commercial Services
Attn: Isaiah Fitzgerald
333 Bush Street, Suite 500
San Francisco, California 94104
If you choose to retrieve a copy of the prospectus from the NPS website, please email Isaiah Fitzgerald so you are placed on the mailing list to receive notifications of any future modifications or other correspondence.
Site Visit
In order to provide interested parties an opportunity to see the park environment and operations, a one-day site visit may be held on August 3, 2018. This site visit is an opportunity for all interested parties to tour the concession facilities, including back of the house operations. Attendance is not required in order to submit a proposal, however attendance is encouraged as this will be the only site visit provided by the NPS.
All interested parties attending the scheduled site visit must email Isaiah Fitzgerald no later than 2:00 p.m. (PT) July 31, 2018 to reserve a spot. At that time you will receive further instructions regarding the site visit. If the NPS does not receive requests for a site visit, it will be cancelled. The email must provide the following information:
Name of company or organization
A list of all attendees (full name)
Name of the primary contact
Email
Phone number
Additionally, the site visit will provide access to work areas not open to the public, therefore no one under the age of 18 will be permitted on the site visit.
Questions
Questions are due to Isaiah Fitzgerald no later than 2:00 p.m. (PT) on August 13, 2018.