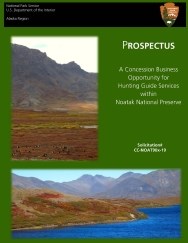 Solicitation of a Concession Business Opportunity for Hunting Guide Services in Noatak National Preserve
The National Park Service (NPS) intends to award three concession contracts for hunting guide services within Noatak National Preserve. This prospectus describes the existing business operations and the future business opportunities for services required. Offerors should review all sections of this prospectus, specifically the terms and conditions of the draft contract, including its exhibits, to determine the full scope of a future concessioner's responsibilities.
This solicitation is closed.