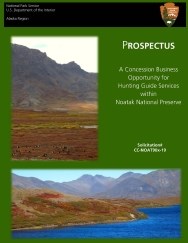 Solicitation of a Concession Business Opportunity for Hunting Guide Services in Noatak National Preserve
The National Park Service (NPS) intends to award three concession contracts for hunting guide services within Noatak National Preserve. This prospectus describes the existing business operations and the future business opportunities for services required. Offerors should review all sections of this prospectus, specifically the terms and conditions of the draft contract, including its exhibits, to determine the full scope of a future concessioner's responsibilities.
Any proposal must be received by 4:00 p.m. (AT) October 1, 2018. Please send proposals to:
National Park Service
Alaska Regional Office
Attn: Concessions Management Specialist
240 W. 5th Avenue
Anchorage, AK 99501
Hard Copies
Hard copies are available upon request or by personal pick up. Contact Mark Keogh, Concessions Management Specialist, at 907-644-3367 or at the address above.
Questions and Amendments
If you are planning to submit a proposal, please advise Mark Keogh of your contact information in order to receive future response to questions or amendments to the prospectus. Please refer to the proposal instructions in the prospectus when submitting questions.